Sport
World Cup: Versatile KL Rahul, a vital cog in India's campaign | Cricket News – Times of India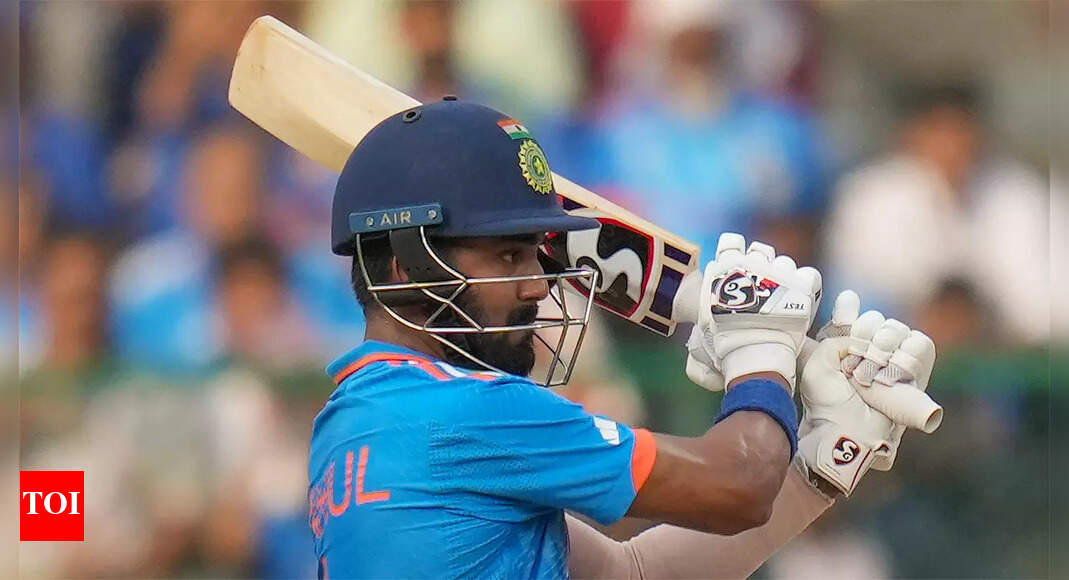 With the middle-order batter pulling off several rescue acts, the team seems to have hit the jackpot with the no. 5 slot in this World Cup…
MUMBAI: 2/3 at Chepauk vs Australia. Chasing 200 with Josh Hazlewood, Mitchell Starc and Pat Cummins sniffing blood. Need a rescue act? Enter KL Rahul. Three hours later, in the company of the peerless
Virat Kohli
, he switches into Test mode and steers India home.
In Ahmedabad vs Pakistan, after
Rohit Sharma
's fireworks had reduced the chase of 192 to a formality, he stays on with Shreyas Iyer, patting back half volleys for an unattractive, unbeaten 19, to see him get to his first World Cup half century.
In Pune vs Bangladesh, in pursuit of 257, Rahul walks in at 178 for 3 and after playing himself in, he first belts four boundaries to ensure that India does not slip behind in the NRR race, which allows Kohli just about enough runs to get to three figures. With victory assured, he then turns down singles to let Kohli do all the scoring to reach ton no. 48.
Had a poorly timed light show not distracted him immediately after the second drinks break vs New Zealand in Dharamshala, his 27 off 35 balls which took India from 128 for 3 to 182 in a tricky chase of 274, would have resulted in something more substantial.
The Lucknow 39 off 58 balls vs England deserves more love. Because like Chennai, it proved to be the circuit breaker, after India had stumbled to 40 for 3. On a pitch where 230 was just par, Rahul, along with skipper Rohit added 91 runs in 111 balls, by working the ball in the gaps.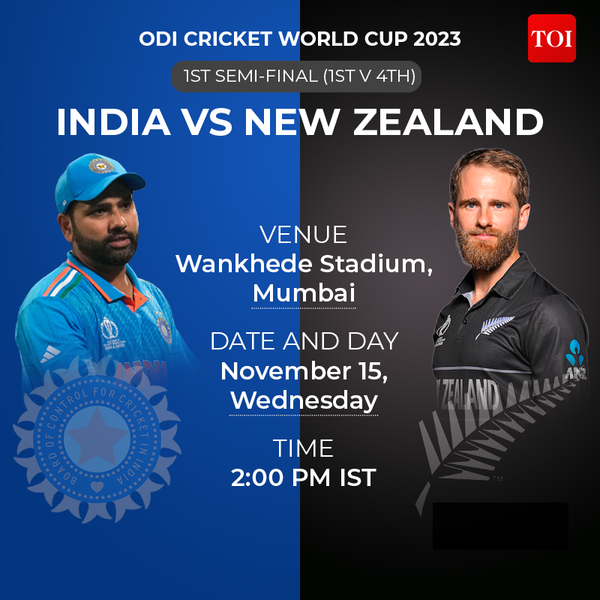 While he had to go bang bang from ball 1 against Sri Lanka and South Africa, and perished, the situation vs Netherlands at his hometown Bengaluru provided him with the chance to bring his T20 game out of the closet and marry it with the ODI format.
200 for 3 in 28.4 overs is a great platform when you walk in. But it is also a tricky one as there is enough time to trigger a collapse, especially if you have Mohammed Shami batting at No.8.
Rahul, a Test opener with overseas hundreds at Sydney, Colombo, Kingston, Oval, Lord's and Centurion, is a jackpot at No.5 in ODIs as he allows the batters before him to bat with a sense of freedom because they know they can rely on his solidity in case they get out, or his versatility in case they give the team a good launching pad. In this World cup, the latter has happened more often than not.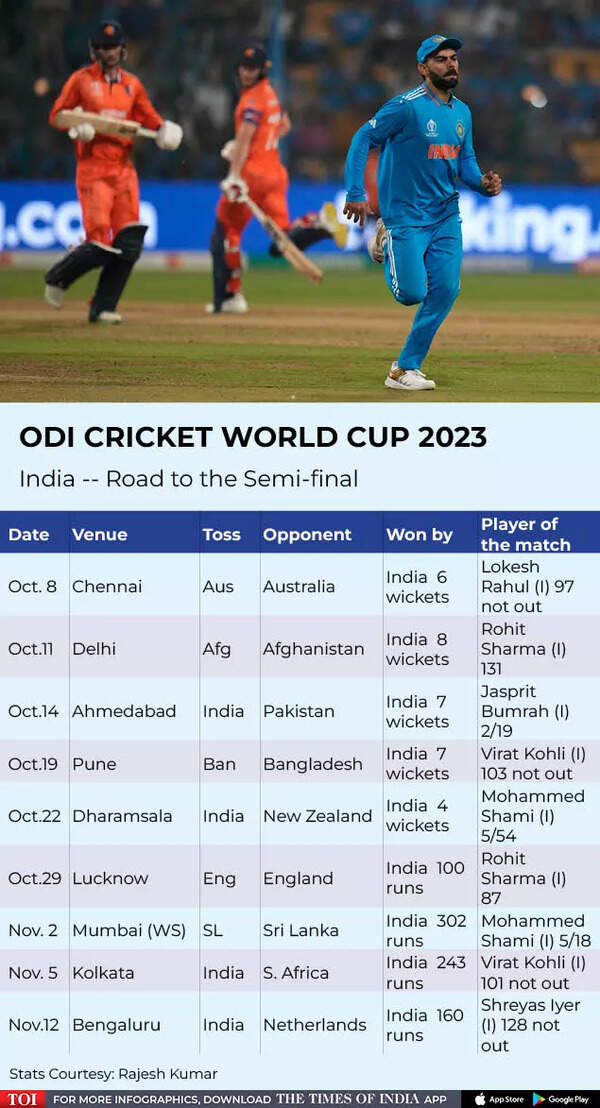 The delight of trolls for saying "strike-rates are over-rated in T20 cricket" and botching up several chases in the IPL for Punjab and Lucknow, with a curious and confused approach, Rahul's role clarity while batting at No.5 has been a delight to watch, ever since he first batted there vs Australia in Rajkot before the pandemic, and scored a rakish 80 (52balls). The liberated mindset mirrored the one he showed in the IPL in 2018 and 2019.
As a keeper-bat at No.5, he has scored 1101 runs in 27 games at an average of 61.16 and he strikes at 98.12. With shots like the carve over cover point by showing the bowlers the stumps, the late cut off medium pacers or spinners, the wristy flick over mid-wicket or deep square, with which he got his hundred vs Netherlands and which probably made the man who holds the copyright to that stroke, Suryakumar Yadav, think, "What the $%#@", Rahul has shown he has the range to accelerate without slogging.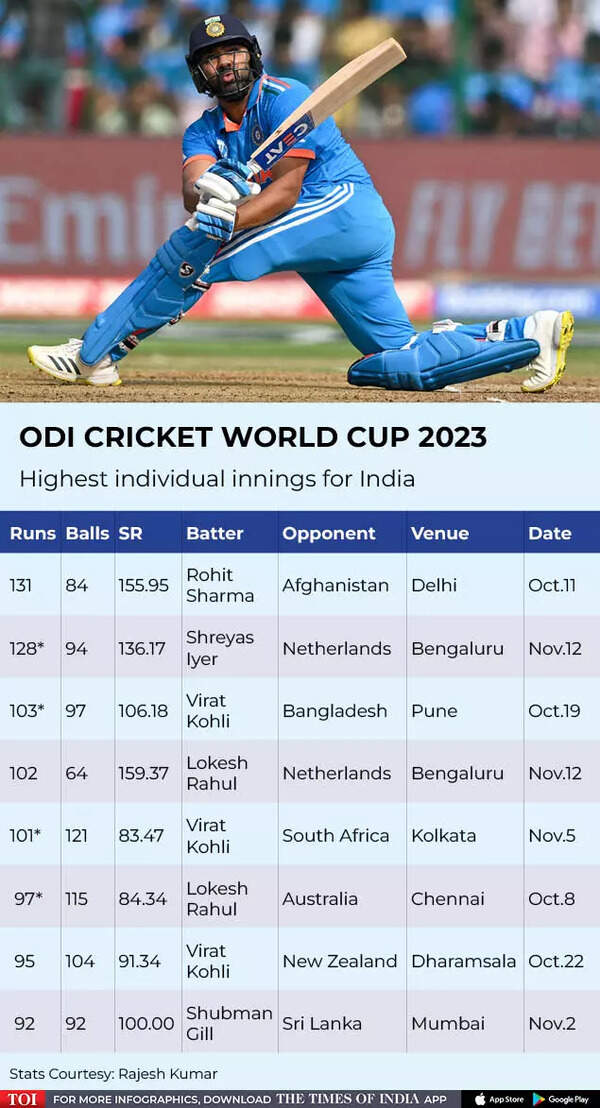 His first 10 runs on Sunday came in 13 balls. He reached his 50 off 40 balls and in the next 21 balls, he had got to three figures.
In the 2019 World Cup, Rahul was the team's designated No.4. However, an injury to Shikhar Dhawan forced the team management to open with him and he responded with two fifties and a hundred.
He fell for one opening the innings in the semifinal vs New Zealand edging Matt Henry to Tom Latham. On Wednesday, against the same opponents, at the same stage, Rahul at No.5, will have a different role and different ideas. Especially at Wankhede, where he has a stellar white-ball record and where his lack of inhibition will be needed on a flat pitch and small ground where the ball flies around.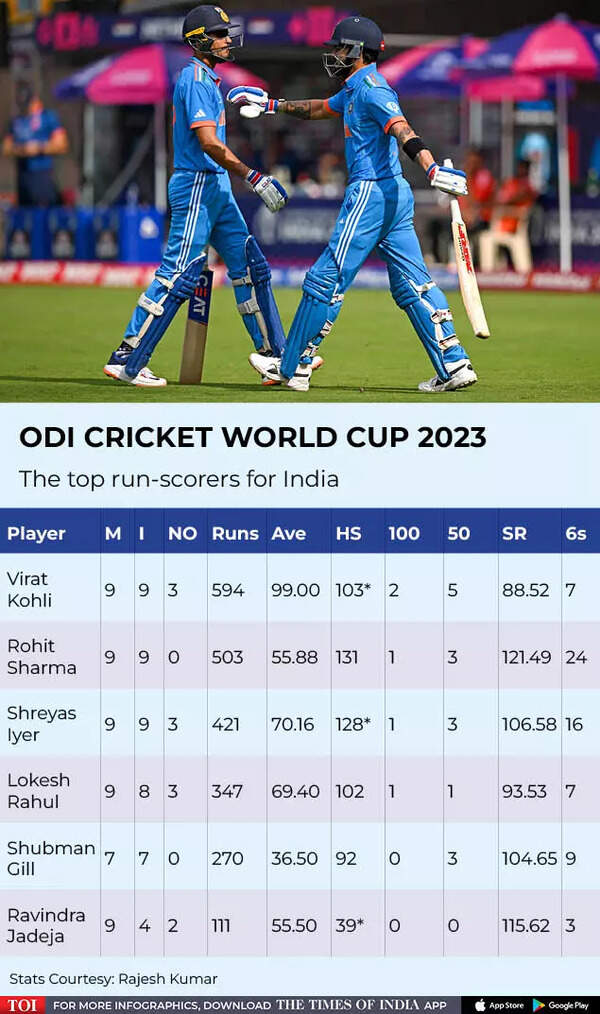 And if the ball flies off the surface, under lights, his improved keeping skills will come in handy too. "It does get a bit difficult on the body sometimes, but otherwise I enjoy being involved in the game throughout," Rahul said about keeping duties.
What will India give for that body to hold up for two more games.