Sport
World Cup, India vs South Africa: An open and shut case between Rohit Sharma and Quinton de Kock at Eden? | Cricket News – Times of India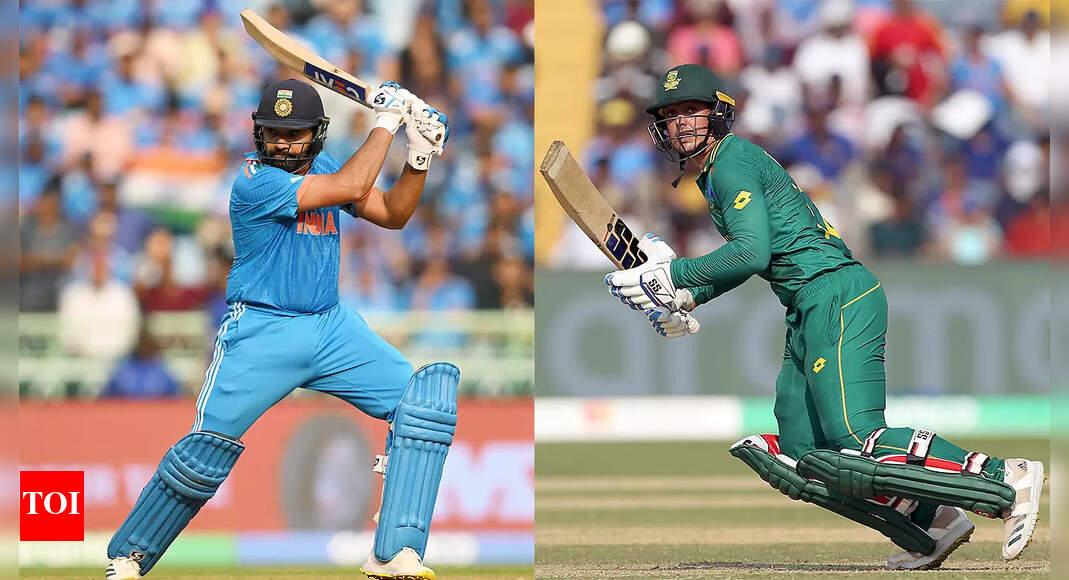 Sunday will see former
IPL
mates fighting for top run-getter's spot
KOLKATA: Is it going to be an open and shut case when India play South Africa at the Eden Gardens on Sunday? Going by this World Cup's show so far, the willows of India opener
Rohit Sharma
and his South African counterpart
Quinton de Kock
could well decide the outcome of this much-awaited clash.
If launching pad is important for a great leap, then both De Kock and Rohit are providing that in right measures for their sides as the two openers stay in the running to end up as the tournament's highest run-getter.
Rohit's feat of five centuries in the World Cup in the 2019 edition now looks in danger of being overhauled as De Kock had already got four so far.
Playing his last ODI World Cup, 30-year-old De Kock seems to be repaying the faith that the team has once shown him? In the 2021 T20 World Cup, the South African wicketkeeper-batter decided not to take the knee ahead of their match against the West Indies in Dubai and pulled out of the game. De Kock did explain his viewpoint and made a return to the side soon after. But in such a sensitive issue, team backing was extremely important and De Kock got his skipper Temba Bavuma beside him.
"People might not recognise, but he is a flipping amazing leader," De Kock said of his skipper then. "You have to respect (De Kock's position), whether you agree with it or not," Bavuma was quoted as saying.
De Kock is enjoying this comfort zone. For a man who didn't have a single World Cup century in 17 innings, thus began with a bang getting back-to-back centuries (vs Sri Lanka and Australia) this time. Rohit, on the other hand, flopped twice in this World Cup against Australia and Sri Lanka, but in others he has led by example.
He amassed 131 off 84 balls against Afghanistan in New Delhi and then followed it up with scores of 86, 48 and 46 against Pakistan, Bangladesh and New Zealand respectively. Among these, Ro-hit almost singlehandedly sealed two matches inside the first powerplay when he scored 76 off 43 balls in the first 10 overs against Afghanistan and 45 off 30 against Pakistan.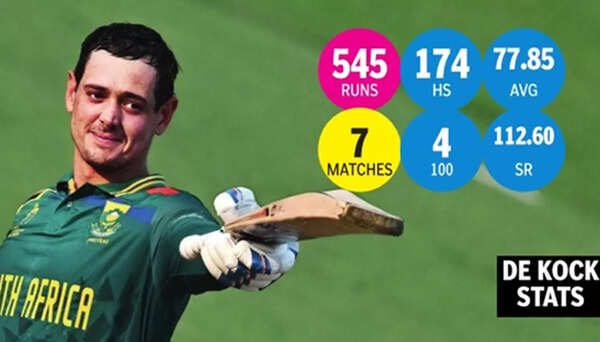 However, his best innings arguably came against England. The team was in dire straits when the Mumbai batter played a patient knock of 87 runs off 101 balls that helped India finish at 229 runs and their bowlers to do the rest.
Much credit should go to De Kock for South Africa going beyond 300 whenever they have batted first as his innings at the top gave licence to Van der Dussen, Adrian Markram, Heinrich Klaasen and David Miller coming down the order to throw their bats at ease.
Interestingly, Rohit has witnessed De Kock at his best from close quarters when the left-hander had a fabulous run for Mumbai Indians in the IPL under him from 2019-21. De Kock, who was part of the back-to-back title winning MI side in 2019-20, was also the team's highest run-scorer (529) during their championship winning season in 2019.
It remains to be seen who will have the last laugh on Sunday night.