Sport
World Cup: Australia aim to win big against Bangladesh | Cricket News – Times of India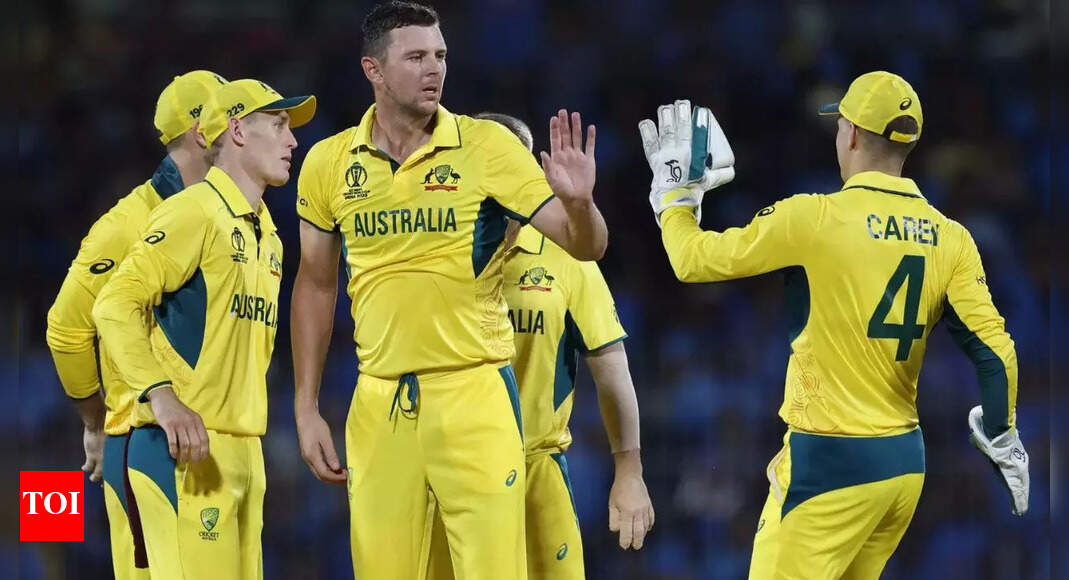 PUNE: Escape to victory lifts a team. There is no escaping this sports truism. But despite the stunning match-winning unbeaten double hundred by
Glenn Maxwell
, it will be hard to argue that the batter was in total control of his shots. Plus, Afghanistan had put them on the mat and only the inexperience and jangling nerves denied them a pathbreaking win.
When Australia play
Bangladesh
in their last league engagement of the
World Cup
at Gahunje in a 'day' game on Saturday, Pat Cummins' mates will be a buoyed lot.Having sealed a semifinal date againstSouth Africa in Kolkata on Nov 16, they cannot look too far ahead. They must remain mindful about the task at hand — of beating Bangladesh — but cannot totally ignore the desirability of winning big.
For, if Australia remain third in the league table, and if the rain washes out their semifinal against South Africa including the reserve day, the latter will enter the final based on finishing higher in the table.
Australia's bowling coach
Daniel Vettori
said, "We are aiming for the home dressing room to begin with (against SA in the semis at Eden Gardens)."
It implied that the team who would finish lower (third) in the table will get the away dressing room. Australia were bowled out for a mere 199 and 177 against India and South Africa respectively in this World Cup and they were 91-7 against Afghanistan. The five-time champions need to embrace clinical style over misplaced aggro and must bring their 'A' game at the start of either innings.
Southpaws David Warner and Mitchell Starc must get into the act at the top of the batting and bowling charts if Bangladesh are to be denied any window of opportunity. Remember, Bangladesh are self-destructors and good spoilers rolled into one.
They had knocked out India (group phase) and had beaten South Africa in the Super Eight in the 2007 World Cup. They had also beaten South Africa and West Indies in the 2019 World Cup and they beat India twice in the Asia Cup, including the one held this year in Sri Lanka.
Australia have generally dominated them, the only blip coming at the NatWest Trophy in 2005 at Cardiff. Mohd Ashraful (100 off 101 balls) was the master of that successful chase defying the attack led by the peerless Glenn McGrath.
Bangladesh are expected to find extra motivation against the Aussies. The latter had cancelled hosting Bangladesh due to financial viability in 2018 and have avoided playing them in bilateral series. They also have a bowling coach in Allan Donald who would like to end his stint on a high. The former South Africa speedster won't be short on thirst for Aussie blood.
Australia have never played a World Cup game in Pune and this will be their first ever face off against Bangladesh in India. They must not make the mistake of resting leggie Adam Zampa (20 wickets @19, strike rate 21, ER 5.56).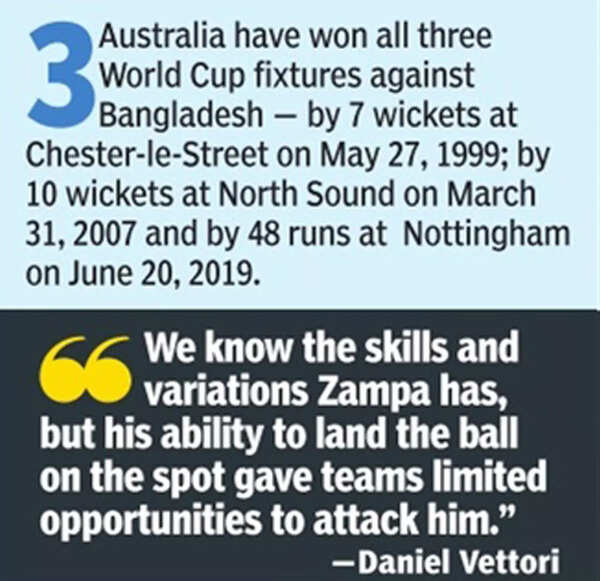 Glenn Maxwell doubtful
With Glenn Maxwell (leg cramps, exhaustion), the hero of the win over Afghanistan and Steve Smith (vertigo) unsure of playing on Saturday and considering that they want to win by a big margin, batting first after winning the toss should be their logical choice.
"He's definitely been in full recovery mode the last few days. We all saw the effects of the innings and in particular the heat. So I think today's a big day, see how he pulls up," Vettori said. "Obviously we've had a couple of days off so there's been no training," he added.