Cricket
World Cup: All-round Shakib wins ill-tempered battle with Sri Lanka, keeps Bangladesh's Champions Trophy hopes alive | Cricket News – Times of India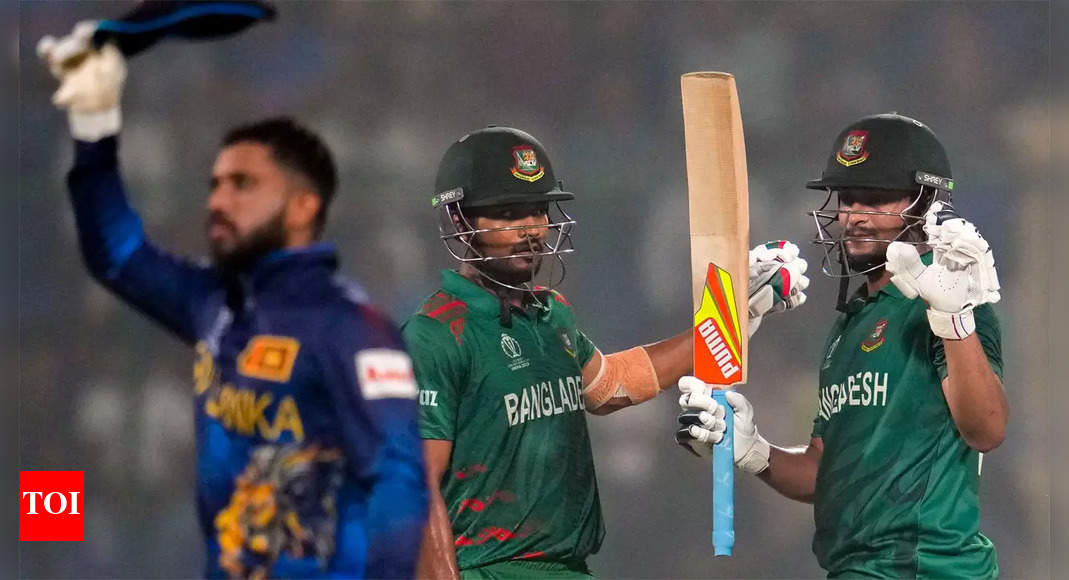 NEW DELHI:
Shakib Al Hasan
took it upon himself to add some spark to a rather insignificant World Cup here at the Arun Jaitley stadium on Monday. When he decided to appeal for a 'timed out' dismissal against Angelo Mathews in the 25th over of the match, he knew it was up to him to see Bangladesh home against their bitter rivals Sri Lanka.
And Shakib emerged triumphed in an ill-tempered match as his fluent 65-ball 82, along with Nazmul Hossain Shanto's calm 101-ball 90, set up Bangladesh's three-wicket win with nine overs to spare in the chase of 280.Mathews did hit back when he dismissed Shakib with a slower ball in the 32nd over. As Shakib walked back, the veteran Lankan allrounder sarcastically pointed at his wrist to suggest Shakib's time was over. Eventually, it's Sri Lanka who are running out of time to book a slot in the ICCChampions Trophy in 2025.
It was a match that was meant to prove their relevance in world cricket. Both teams have been pushed to a corner in the World Cup. It was a situation where ego could easily take over. It may seem that it did for Shakib when he refused to withdraw his appeal against Mathews. But, in doing so, he also announced to the rest of the team that he was up for a fight as the captain of a team mired in controversy for months leading up to the World Cup. He threw a challenge for himself.
The incident did spur on Sri Lanka. From a tricky 132/5, Charith Asalanka played a measured knock of 108 off 105 balls to help Sri Lanka post 279. But the Lankan fight came too late in the match. This total on a deck that has produced World cup record scores during the tournament was always below par. The excessive dew was always going to take their spinners out of the game. Once Shakib and Shanto settled into a partnership for the third wicket, Sri Lanka's best bet was to hope for a Bangladesh implosion.
As It Happened
Bangladesh did threaten to implode in the back end of the chase. But Shakib's dominance with the bat had put the game beyond. He was walking down to the seamers and placed the ball at his will. Twelve boundaries and two sixes later, Sri Lanka were left ruing a dropped chance when he was batting on seven.
A lot ride on Shakib. He has been Bangladesh's go-to-man whenever in crisis. He is their biggest cricketing brand. With all that has been going on Bangladesh cricket in the last five months, the board had placed its hope in Shakib. Six straight losses and the label of being the first team to be eliminated from the race for a semis spot were bound to put Shakib under pressure. And he responded. First, with the ball as he claimed 2/57 while rotating his bowlers immaculately to keep Lanka under check. And then with the bat. Coming up the order, he knew he had to take responsibility for spurring on the Lankans. And he did that with aplomb.
Bangladesh may be breathing easier when it comes to their immediate future in international cricket. But Shakib would know in his heart that this fightback came a tad too late for his team. As for Sri Lanka, their cricketing identity is under serious threat.
World Cup 2023: Angelo Mathews becomes first ever player to be timed out in cricket | Sri Lanka vs Bangladesh