Sport
World Cup 2023 | Selfless skipper Rohit Sharma sets it up nicely with a dashing approach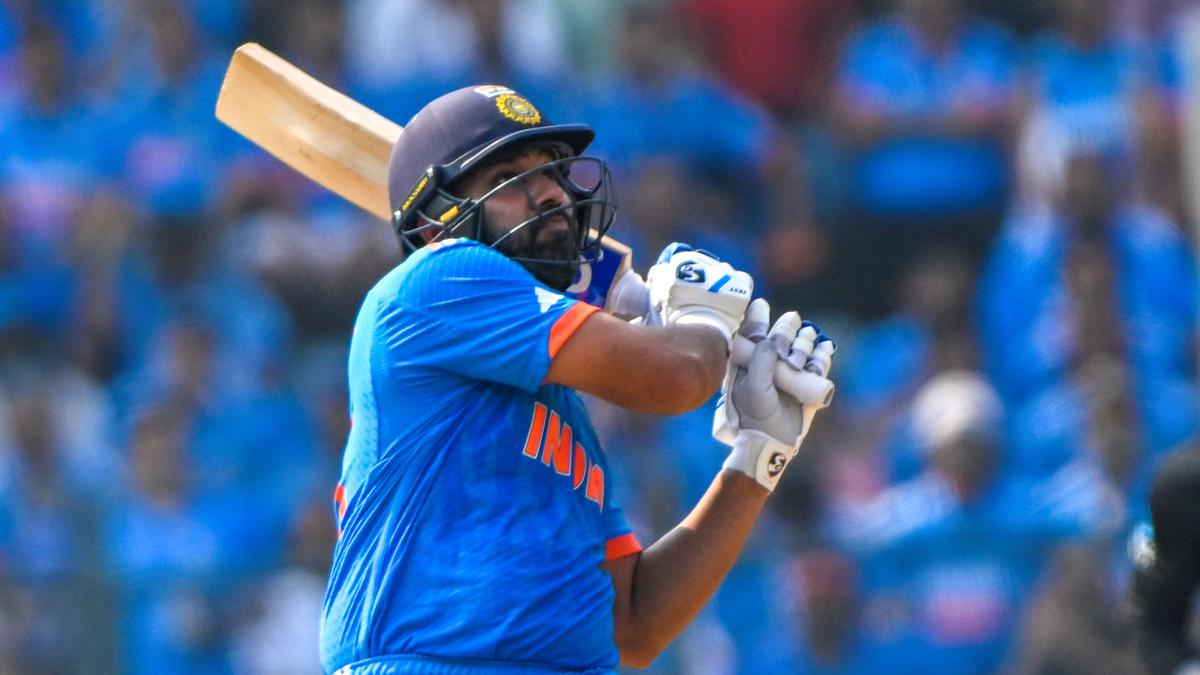 Down the shutters, save the citadel, used to be the old-fashioned mantra of opening batters. Over the years, this dogma has been turned on its head with men like Sachin Tendulkar and Adam Gilchrist in the past and David Warner and Rohit Sharma in the present, not averse to clattering fours and sixes, especially in ODIs.
As India enters the final of the World Cup, the contribution of skipper Rohit in a splendid campaign so far cannot be under-estimated.
The captain has set a breathless pace in the first PowerPlay, allowing his partner Shubman Gill some leeway to settle down and also lay a base for the middle-order stars to flourish.
Known for his double hundreds in ODIs, Rohit has adopted a new approach that hinges on cameos with runs clipped at a rapid pace.
Having started with a blob against Australia at Chennai, the batter has subsequently been in his element right through and his scores of 131, 86, 48, 46, 87, 4, 40, 61 and 47, with an overall strike rate of 124.15, have helped India do well in both setting and chasing targets.
It is not as if Rohit only knows the fifth gear; against England, when a few wickets fell around him, he immediately turned watchful and ensured that India had an adequate total to defend. But primarily, this World Cup has been about his single-minded focus on setting a fast tempo in the first 10 overs.
He has rained shots all over the park, pulling, lofting and flicking sixes at will. Pleasing on the eye, Rohit has blended power, aesthetics and timing.
Also Read: IND vs NZ | Nasser Hussain, Wasim Akram laud India's 'genuine hero' Rohit Sharma
Interestingly, he has never slowed down on sighting an imminent milestone, be it a 50 or a 100. The approach has been the same and the innate risk does mean that he could get dismissed in his 40s and 80s. It has happened that way too.
Obsessed with setting a frenetic run-rate for his team, Rohit has picked his spots. When rival captains tried to unsettle him by employing spin, he just knelt down and slog swept or danced down and hoisted the slow bowler. "Rohit has cracked open games for us," coach Rahul Dravid said recently.
As a skipper, Rohit has set a massive example for his team-mates, often becoming the sacrificial lamb while pressing for quick runs.
But except for a minor grimace, Rohit retreats to the dressing room, confident about having set the right pedestal for Virat Kohli and company to follow.
For someone who missed the 2011 World Cup, an omission that rankled him back then, Rohit has made his peace with the quadrennial championship.
And now as he leads India in Sunday's final at Ahmedabad, the leader of the Men in Blue is ready to add another chapter to his storied career. His bat is bound to do the talking, in loud and clear terms.