Sport
World Cup 2023 | Mohammed Shami — 'Meticulous Maximus' and 'Annihilator Unabated'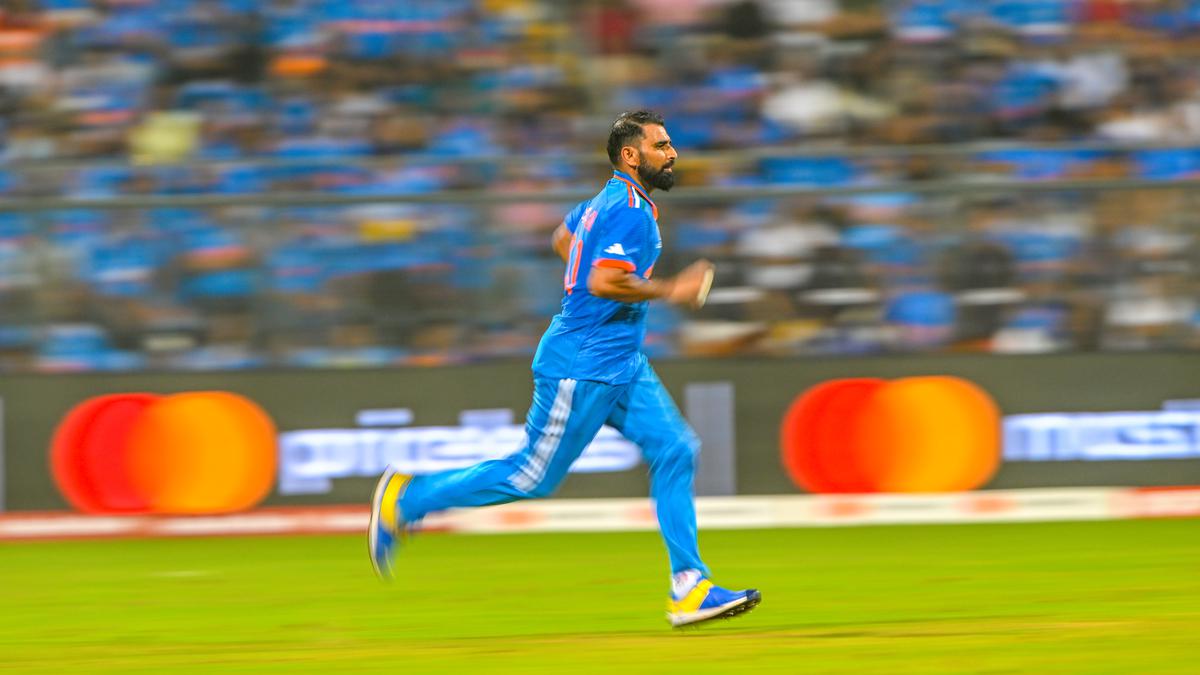 Fast bowlers peddling gentle looseners before getting into their rhythm and batters offering the forward defensive shot until they get their eye in are all part of cricket's quaint traditions. But the modern era, with its accent on the quick and the settled, instant noodles and hot tea bags, tends to tweak orthodox dogmas, marrying the classical with the contemporary.
To see Mohammed Shami in full flight is to savour these complex realities. Often deemed an able foil to Jasprit Bumrah, a buddy to Mohammed Siraj and the ally to Umesh Yadav, Shami's uniqueness is often overlooked at worst or tends to be taken for granted at best. Be it the first over or stepping in as first change, Shami steams in, gaining speed, not for him the eternal winnowing steps of Bumrah before the sudden explosion or the antelope's gait of Siraj.
A bowling action pleasing on the eye ensues and the ball homes in, like a pigeon returning to its roost, to that exact uncertain spot for innumerable batters. On and around off-stump, angling in, and the willow wielders tap their inner Hamlet and perhaps whisper: to drive or not to drive. In that split second shrouded in confusion, the delivery becomes either the seducer drawing the edge or the sledge hammer thudding into pads or just dismantling stumps.
Shami will keep running, a hand raised, a smile spreading across his face, just another day at work while his team-mates race towards him. To land the ball on the money from the very first ball is a special attribute and through this World Cup and earlier in his career, except during those phases when he carried some niggles, Shami has been both 'Meticulous Maximus' and 'Annihilator Unabated'. All done with a grin and with a certainty of a river seeking the sea.
Yet, he tends to get the boot. In a white-ball environment that lays emphasis on all-round ability, Shami's weaker batting arm, despite his odd long handle forays at the crease, is cited as an excuse to drop him. The Indian team management did that in the latest World Cup, leaving him out of the playing eleven in the games at Chennai, Delhi, Ahmedabad and Pune. The all-round skills of Hardik Pandya and, to a lesser extent, Shardul Thakur meant that the doors were shut on the man with roots in Amroha, Uttar Pradesh.
An unfortunate injury to Hardik meant that the team was now scrambling for balance. With no like-for-like replacement available for Hardik, the think-tank decided to field six batters and five full-fledged bowlers. Suryakumar Yadav and Shami found their spots in the clash involving New Zealand at Dharamshala, and the rest is history.
Shami's yields in the matches so far have been five for 54 (against New Zealand), four for 22 (England), five for 18 (Sri Lanka), two for 18 (South Africa), none for 41 (Netherlands) and seven for 57 (New Zealand, semifinal). He has inevitably scythed through rivals in his first spell before returning to mop up a few more scalps.
The quadrennial championship seems to get the best out of Shami, who bagged 17 in the 2015 edition in Australia and New Zealand. In 2019, he played in four games and still had a net yield of 14. And currently, he has 54 wickets overall in all three World Cups combined, which is the highest for an Indian, ahead of Javagal Srinath and Zaheer Khan, who have 44 scalps each.
It would be apt to state that Shami has been a talisman this time around even if he was inducted a bit late into the playing eleven by Rohit Sharma. Earlier, the pressure built up by Bumrah was dissipated through Thakur, an eager performer but one who is a notch below his established pace colleagues. Even Siraj wasn't exactly firing on all cylinders till he found his mojo against Sri Lanka. Shami, of the stifling length, surprise bouncers and camouflaged angles, has run riot at the bowling crease.
Just like his predecessors Srinath and Zaheer, Shami also revels in the mentor's role, standing at mid-off or mid-on, having a quick chat with Bumrah or Siraj and also passing notes to Rohit, Virat Kohli and K.L. Rahul. Siraj's effervescence at times needs to be capped and Shami does that in his sardonic ways. "We enjoy each other's success, otherwise what is the point in playing a team sport? At times they put pressure and I get the wickets, at times I put pressure on the batter and they get the wickets, in the end all this helps the team," Shami said at a post-match press conference.
In the latest World Cup, he has devastated opposition ranks in his opening spell, and is equally unyielding in his second and third bursts. Relentless Shami is also a menace at the nets, not for him the 'good mornings' and 'have some hot chocolate' bonhomie with his batting mates. After the session, he is gentle, easy to break into a guffaw, but when he runs into bowl, the batters have to contend with everything, be it cutters, yorkers, bouncers, scrambled seam, slower ball and the range doesn't end with this.
Shami's life hasn't been easy — shifting to Bengal to further his prospects, he polished his skills under the great Wasim Akram while being with the Kolkata Knight Riders. There were injury woes, a personal crisis involving a failed marriage and the public airing of dirty linen. Through all this he hung in and, despite the odd craving for biryani, he has watched his diet and a lot of credit is due to the Indian bowling coaches, be it B. Arun in the past or the current occupant Paras Mhambrey.
A supreme bowler with skills allied with pace, besides a handy knowledge of reverse swing, Shami remains a vital cog as India marches into the World Cup final. Always buzzing, Shami's working over of Ben Stokes which finally resulted in bruised ego and shattered stumps, will always be the stuff of folklore. And with Shami around, more such episodes are bound to happen.