Sport
Women's Asian Champions Trophy final | India dethrones Japan with a commanding display, regains the title it won in 2016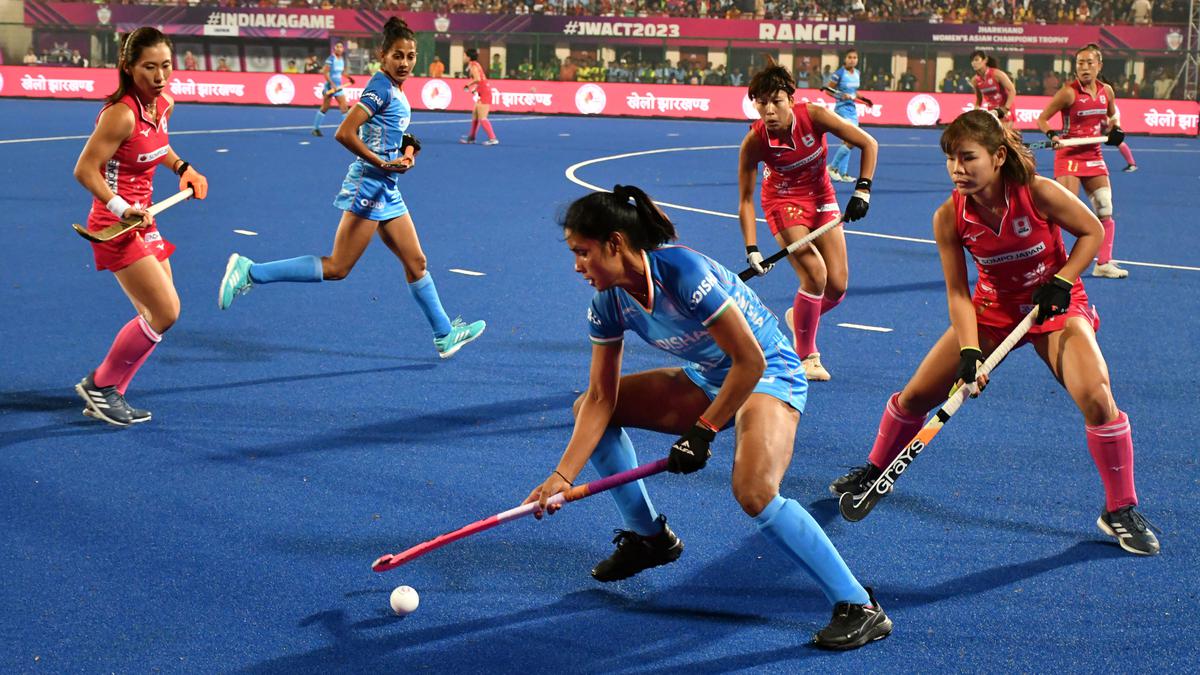 For a stadium with an official capacity of 8000, the Marang Gomke Jaipal Singh Munda hockey stadium here had at least double that number inside on Sunday and much more outside, crowded in front of half a dozen giant screens.
Reason to celebrate
All of them had reason to celebrate by the time the Jharkhand Women's Asian Champions Trophy ended, India lifting its second title after 2016 with a 4-0 win against Japan in the final.
The lines had started outside as early as 2 p.m. and it was clear even then not everyone would be able to enter.
Just before the scheduled start of the final at 8.30 pm, one of the floodlight towers went kaput, the reason being too little load or a short circuit, depending on who you asked, leading to a delay of almost 50 minutes in the presence of Chief Minister Hemant Soren.
All those inside and outside the stadium barely moved, patiently waiting for the game to start. They were rewarded with an entertaining contest between two teams equally desperate to prove themselves.
India started like always, looking to score early and taking control and the host had its chances, especially in the 15th minute with Vandana Katariya running all the way into the Japanese circle from the left but running out of partners to pass to.
Two minutes later, Monika put Baljeet Kaur through who found Sangita Kumari on the right to get the lead.
Having been an equal contest so far, a stung Japan hit back and in the 21st minute, Shiho Kobayakawa ran past three Indian defenders to score what could easily have been a contender for the goal of the tournament, only for an Indian referral to find it hit her body before and cancel it.
Missed chances at either end continued but it was more down to impeccable defending from either side than any mishits.
India doubled the lead when Neha deflected a Deep Grace PC in the 46th minute. Japan got a penalty stroke in the 52nd which Savita saved with an extended left leg, continuing her brilliant performance on the day as the bulwark that withstood every Japan attack.
That miss, perhaps, deflated Japan more than anything else with the side, fighting hard till then, appeared to have given up and India took advantage, adding two more to complete the formalities. It was only poetic that Vandana scored the final goal of the tournament in the final minute.
In the battle for bronze, China edged past a fighting Korea 2-1 in a rematch of the Asian Games final that saw both teams exchanging control in open play.
The results: Final: India 4 (Sangita Kumari, Neha, Lalremsiami, Vandana) bt Japan 0; 3/4 place: China 2 (Yi Chen, Tiantian Luo) bt Korea 1 (Sujin An).
Special awards: Player-of-the-Match: Deep Grace Ekka; Rising star of the match: Sangita Kumari.