Sport
What is 'Timed Out' rule in cricket | Cricket News – Times of India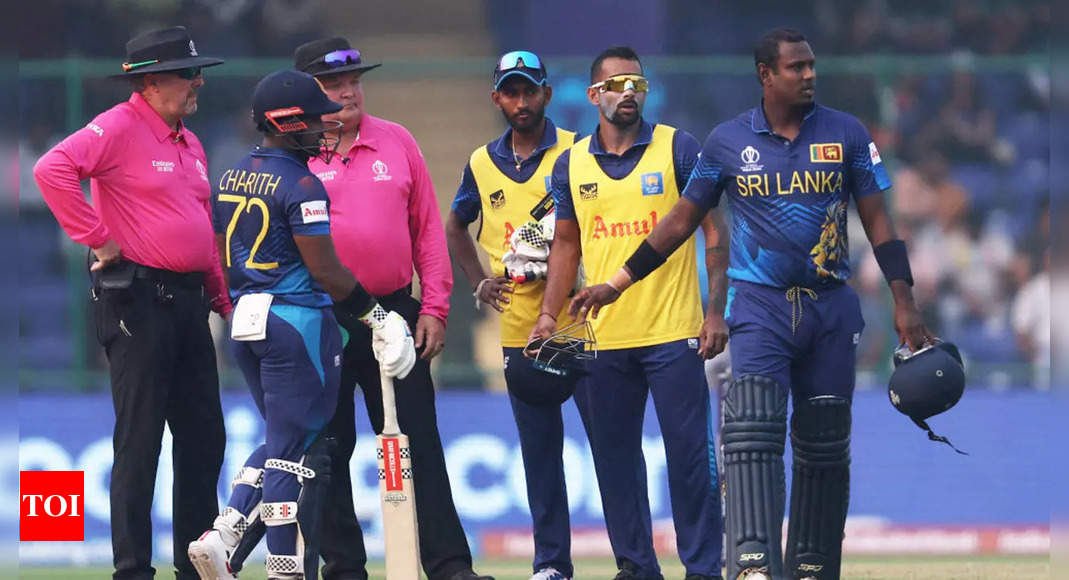 NEW DELHI: The
Angelo Mathews
' 'timed out' dismissal, during the Bangladesh-Sri Lanka
ODI World Cup
match in Delhi, sparked a controversy as well as a need of an explanation about the rule which has never been used in international cricket until today.
Lankan batter Mathews on Monday became the first cricketer to be given 'timed out' in the history of the game.
Here is the MCC law which explains the nitty-gritty of the 'timed out' dismissal:
MCC law 40.1 (Out – Timed Out)
Rule 40.1.1 states:After the fall of a wicket or the retirement of a batter, the incoming batter must, unless Time has been called, be ready to receive the ball, or for the other batter to be ready to receive the next ball within 3 minutes of the dismissal or retirement.If this requirement is not met, the incoming batter will be out, Timed out.
Rule 40.1.2 states: In the event of an extended delay in which no batter comes to the wicket, the umpires shall adopt the procedure of Law 16.3 (Umpires awarding a match). For the purposes of that Law the start of the action shall be taken as the expiry of the 3 minutes referred to above.
Rule 40.2 states: Bowler does not get credit
The former Lankan captain took over two minutes to assume the batting position due to helmet issues. During this delay, Bangladesh skipper Shakib Al Hasan made an appeal, which was upheld by the on-field umpire.
That's the catch as according to ICC World Cup 2023 playing conditions, the time limit for the batter is just two minutes.
Delhi pollution: Amid severe pollution levels, Sri Lanka faces Bangladesh at Arun Jaitley stadium
In the case of a 'timed out' dismissal in cricket, the bowler does not get credited with the dismissal. Similar to a run-out where the fielder executing the run-out doesn't get the credit for the wicket, the timed out dismissal does not attribute the wicket to the bowler, as the dismissal is due to the incoming batsman's failure to reach the crease within the specified time limit.