Sport
Top 10 World Cup viral moments: From Hardik Pandya 'juju' to Glenn Maxwell turning Undertaker | Cricket News – Times of India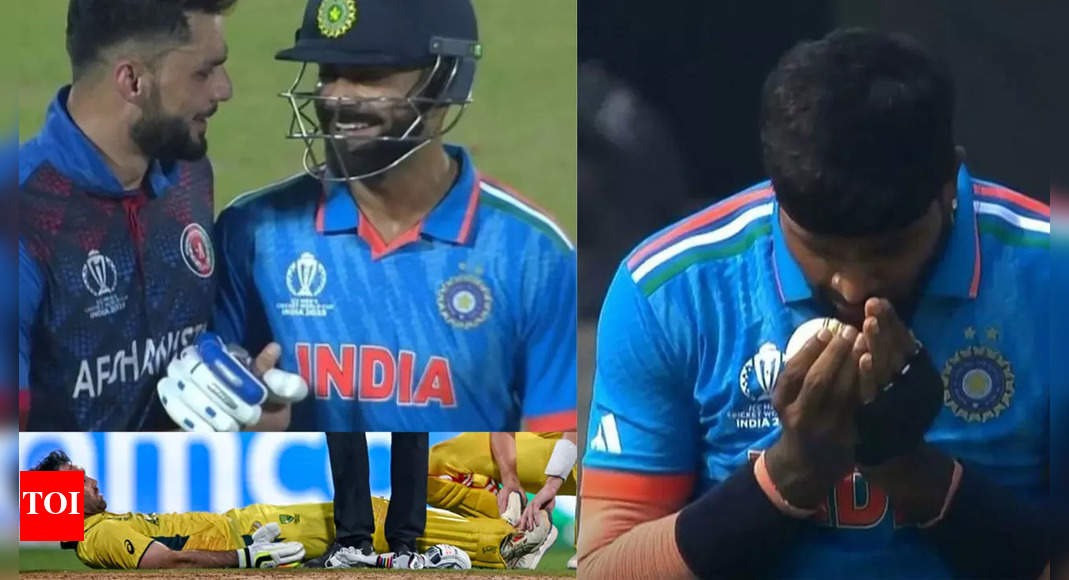 NEW DELHI: Adding another chapter to their dominance as a cricketing superpower, Australia clinched a record-extending sixth ODI World Cup title, beating hosts India by 6 wickets in the summit clash at the world's largest cricket stadium in Ahmedabad on Sunday.
Breaking the hearts of a record 92,000-plus fans at the Narendra Modi Stadium and billions watching on television sets, Pat Cummins and co.ended India's stupendous run in the tournament — handing
Rohit Sharma
's team their first defeat after 10 wins in a row — and emerged victorious on the final frontier.
After grabbing the titles in 1987, 1999, 2003, 2007 and 2015, the Cummins-led side etched their names in history books, crushing the Indian dreams of a third title triumph.
With Australia's win, the 10-team World Cup that began on October 5, lasting 45 days and 48 memorable contests, came to an end.
Throughout the course of the tournament, there were some incredible on and off-the-field moments. Here's a look at the top 10 World Cup viral moments.
1) King bows down to Master
In one of the best moments of the World Cup, batting great Virat Kohli bowed down to legendary Sachin Tendulkar after breaking his record of most centuries in one-day international format. As Kohli notched up a historic record-breaking 50th ODI ton against New Zealand in the World Cup semi-final in Mumbai on Nov 15, the 35-year-old celebrated his hundred with a fist pump, flying high in the air. Following that, Kohli looked at his idol and former teammate Sachin in the stands, and bowed down to him in a touching gesture.
2) Irfan Pathan dance
As Afghanistan pulled off a stunning eight-wicket upset win over Pakistan, the team marked the victory with joyous celebrations at the Chepauk Stadium in Chennai. Led by Rashid Khan, the team was seen dancing and enjoying as Afghanistan registered their first-ever win over Pakistan in ODIs. Former India cricketer-turned-commentator Irfan Pathan also joined the celebrations and was seen dancing alongside Rashid after their famous win.
3) Hardik Pandya's juju
In a never-seen-before moment, India all-rounder Hardik Pandya was spotted doing something weird with the ball. In what looked like 'a blow on ball' just before bowling, Hardik's actions turned heads on social media. Interestingly, following his 'mantra' on the ball, Hardik managed to dismiss Pakistan's Imam-ul-Haq on the same delivery which turned the entire saga into a meme fest.
4) Virat's jersey mix-up
In another unusual incident, star India batter Virat Kohli came out wearing the wrong jersey in the match against Pakistan in Ahmedabad. At the time of the national anthem, Kohli was seen wearing a jersey with three white stripes instead of Indian tri-color. Quickly realising his mistake, Kohli went back and came to the field wearing the correct jersey.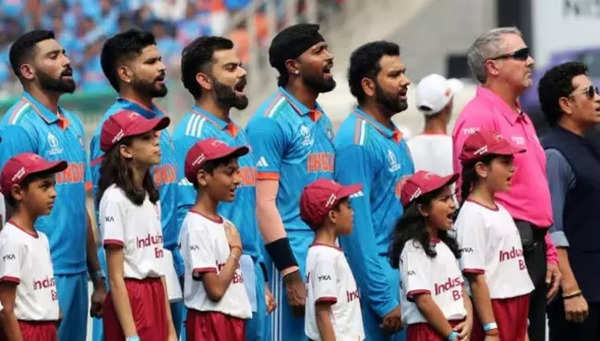 5) Naveen-Virat patch-up
In a delightful and heartwarming moment, Afghanistan's Naveen-Ul-Haq and India's Virat Kohli were seen sharing pleasantries after their ill-fated heated clash in the IPL earlier this year. The Naveen-Virat clash during IPL became one of the most talked about moments of the tournament. But during the India-Afghanistan game, both Kohli and Naveen let bygones be bygones and patched things up between them and were seen hugging and sharing a smile.
6) Maxwell turns Undertaker
Producing one of the most unbelievable knocks in ODI cricket's history, Australia Glenn Maxwell fired an unbeaten 201 in chase against Afghanistan despite cramps severely affecting his footwork. Struggling to stand on his feet and having excruciating pain, Maxwell was even seen lying flat on the field. However, just like former WWE legendary wrestler 'The Undertaker', Maxwell rose and conjured a magical knock to single-handedly take his side to victory.
7) Virat's maiden ODI World Cup wicket
On the day of Diwali, the great Virat Kohli gave India immense joy, not with the bat but with the ball, as he grabbed his first-ever ODI World Cup wicket in the match against Netherlands. Kohli rolling his arm over is a rare sight and getting a wicket is even rarer, but the 'wrong-footed bowling menace' hogged the limelight after dismissing Dutch skipper Scott Edwards, who was caught down the leg side. It was only Virat's fifth career ODI wicket and first since 2014 when he dismissed New Zealand captain Brendon McCullum in Wellington.
8) Football royalty Beckham in the house
The former English football superstar David Beckham was in attendance at the Wankhede Stadium as Virat Kohli notched up a record 50th ODI hundred in the semi-final against New Zealand. Having watched Kohli's artistry with the bat on his first visit to India, Beckham said he was glad to witness 'a piece of history'. Before the game got underway, Beckham also spoke with the Indian cricketers and kicked the football back to Kohli after receiving it from the star batter as a pass while he was having a chat with Sachin Tendulkar on the ground.
9) Jarvo invading pitch
Serial pitch invader Daniel Jarvis, aka Jarvo, who has been known for interrupting international matches in the past, made his World Cup debut when he entered the field during India's opening encounter against Australia in Chennai. As soon as Jarvo entered the field of play, images of him invading the Chepauk broke the internet and went viral on social media platforms. Indian players, including Virat Kohli, were visibly upset as he asked Jarvo to leave the ground.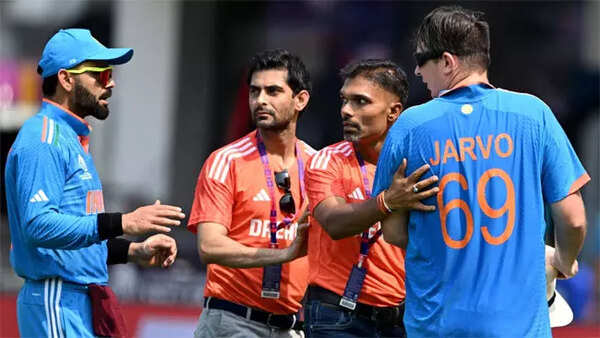 10) Virat-Aunshka heartwarming moment
Bollywood star Anushka Sharma expressed her joyous emotions as husband Virat Kohli achieved his historic 50th ODI ton during the semi-final against New Zealand in Mumbai. As soon as Virat got to his hundred, an enthusiastic Anushka expressed her joy blowing flying kisses and cheering for him in the stands as the batting virtuoso surpassed legendary Sachin Tendulkar's record for the most ODI centuries.