Sport
'The greatest ODI innings': Captain Cummins lauds Maxwell's extraordinary double century | Cricket News – Times of India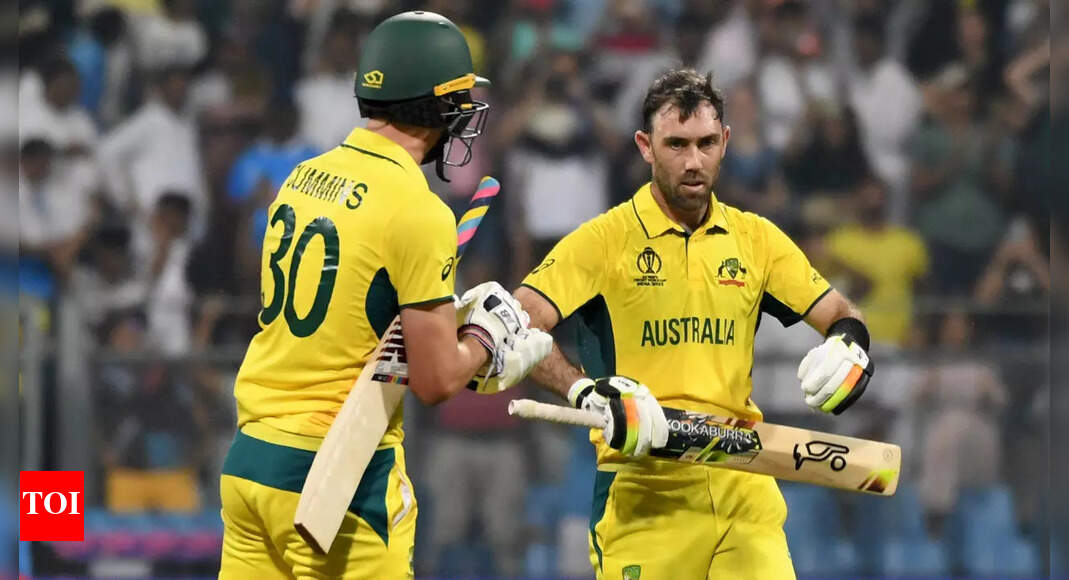 NEW DELHI:
Glenn Maxwell
's unbeaten innings of 201 has been hailed as "the greatest ODI innings" by Australia's captain, Pat Cummins, as it secured a sensational World Cup victory against Afghanistan on Tuesday.
"I think that's the greatest ODI innings," a beaming Cummins told reporters.
Australia had found themselves in dire straits at 91/7 while chasing a formidable target of 292 at the floodlit Wankhede Stadium in Mumbai.
Maxwell then launched an extraordinary assault on the Afghan bowlers, smashing an unbeaten 201 off just 128 balls, an innings studded with 21 fours and 10 sixes. Cummins, who played a supporting role with just 12 runs, could only stand and admireMaxwell's superlative performance.
"It's just a one-man show. It's just like, it looks so easy," Cummins said, referring to Maxwell's unparalleled display of batting prowess. Despite suffering from multiple cramps during his innings, Maxwell displayed resilience and continued to pile on the runs, earning praise from his fellow teammate.
Australia vs Afghanistan: Glenn Maxwell's 'Superhuman' innings seals nail-biting victory over Afghanistan for Australia
Maxwell's extraordinary performance not only secured an astonishing victory but also propelled Australia into the semi-finals of the World Cup, a tournament the team has triumphed in five times before.
"When I went out there, I thought if we can somehow scratch the 200, our net run rate should be pretty good for the semis," Cummins explained, highlighting the strategic importance of improving the net run rate. "When Maxi got his 100, I kind of thought, 'wow, we're within 120 or something'."
However, it was only in the final 20 minutes of the game that Cummins and his teammates truly believed that victory was within their grasp. "And then I still thought, 'no way'. So, I reckon it wasn't until the spinners were just about done and there was maybe 40 off 40 (balls) or something where I thought, 'okay even if Maxie gets out here, I reckon the other guys can get it done."
Maxwell's extraordinary innings will go down in cricketing history as one of the most remarkable individual performances, and it has left fans and fellow players in awe of his incredible talent.
(With inputs from Reuters)