Sport
Sessions with Paddy Upton helped me find perspective again: Virat Kohli | Cricket News – Times of India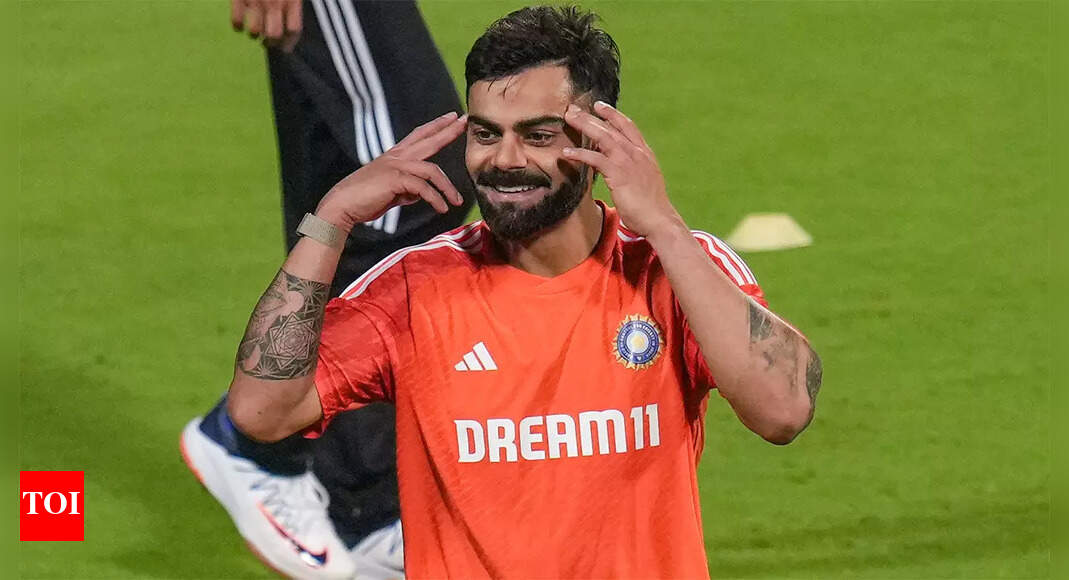 NEW DELHI:
Virat Kohli
has been transparent about his challenges with mental health and the former India captain has acknowledged that sessions with the national team's former mental conditioning coach Paddy Upton played a crucial role in helping him regain perspective during the T20 World Cup in Australia last year.
During the tournament, Kohli delivered a remarkable performance, scoring an unbeaten 53-ball 82, which included a stunning straight six over Pakistani bowler Haris Rauf's head, turning the game in India's favor.Upton, who had previously served as Gary Kirsten's assistant during India's 2011 World Cup campaign, was brought back by the Indian board on a short-term basis for the 2022 global T20 meet.
Kohli, a contemporary batting great, emphasised that consistent conversations with Upton were instrumental in putting him in a strong mental space.
"I had a lot of conversations with him, and I really appreciated him in that moment because he constantly kept me in check with my checkpoints of being present. Keep doing things that you did when you were playing good cricket," Kohli told Star Sports.
"What I went through, what is the cycle of having a long career, the ups and downs because he understood from a cricketing perspective (Paddy Upton); he's played cricket himself. And after that becoming a sports psychologist is a different kind of space," Kohli said.
Those who have played elite sports can explain the hardships that modern day stars face in a more relatable manner.
"If you haven't played and you are explaining struggles and challenges, then it's different. The one who has played knows the margins of the game, the inches and the centimeters of a run-out or a catch being taken, a great short hit, but it went to the fielder if it was a foot away, something else," Kohli added.
It was while engaging in a post-match bear hug with erstwhile head coach Ravi Shastri that Kohli realised how big his achievement was.
"I saw Ravi Bhai and he hugged me, and I was totally into it as it was that big a hug. And I know he was also emotional on that night. Because throughout that period that I was going through whatever, he saw it from the closest quarter, from a cricketing point of view, I had a lot of conversations with him too," Kohli said.
Virat Kohli's birthday century delights fans with biryani bonanza
Many have acknowledged that only Kohli could have done what he did in Melbourne on that night, but for the player, the realisation of the impact that he had had came sometime later.
"I feel blessed. I feel very, very blessed. I don't know what I have done to be here. But all I feel is gratitude and I feel very blessed. After this match, the messages I received, those made me very emotional," he said.
"Whatever happened on the ground happened, you played. To a certain extent, you try to figure out the problems. But the ones who do not have any control over these things but they still have the equal amount of nervousness, anticipation, and for them to have this experience is more intense you know," he said.
Kohli never thought that one knock could mean so much for the fans.
"The messages I received that day, one constant thing that people kept telling me is that you don't know what you've done. And I couldn't understand it because I saw what the stadium atmosphere was like, but I didn't see what the mood in the nation was," he said.
Kohli said it was his wife Anushka Sharma, who helped him realise the kind of impact he has had on the country's mood on the eve of Diwali in 2022.
"The next day it was Diwali, but that also kicked in late after the game. When I spoke to Anushka as well, (on) the next day, she said the same thing. Everyone said 'you don't know how much happiness you've given to everyone'," he recalled.
"Like everyone just said the same thing, like we got to experience so much happiness at the same time on a festival that's so dear to everyone. It's that combination that is very, very rare. You know, that comes by and for that, I felt so much gratitude."
"From 20-year-olds to 55-60 year olds sending me messages of the same emotion, (it) was something that I can never forget in my life. Never, ever," he added.
(With PTI Inputs)