Sport
'Pool of players…': Experts explain what Pakistan need to learn from India after World Cup debacle | Cricket News – Times of India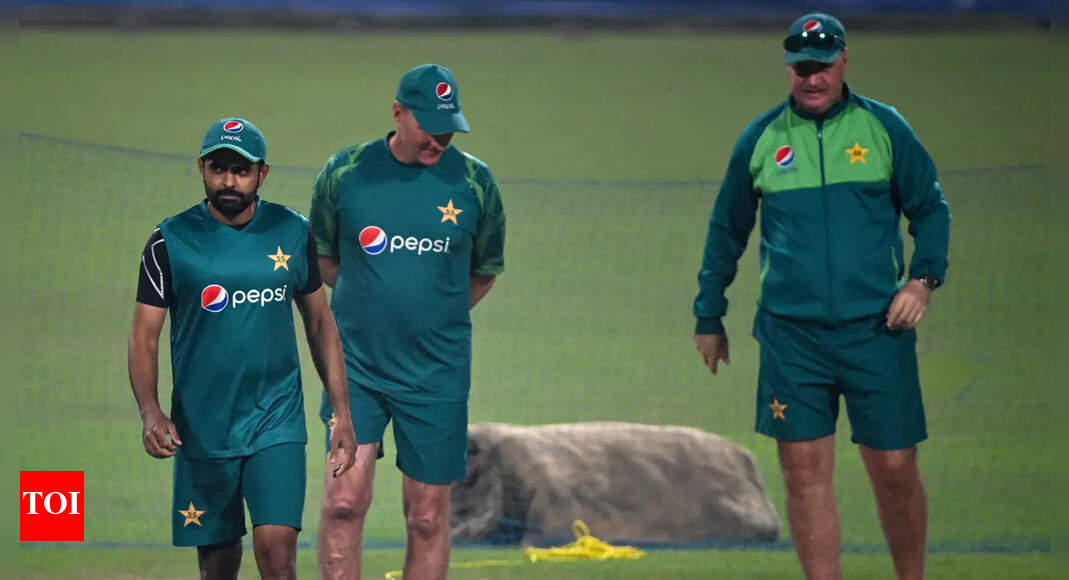 NEW DELHI: Former Pakistan captains lamented that their team made no improvement in the last four years, from the 2019
World Cup
to the ongoing edition, after they found themselves in similar situations of failing to progress into the knockout stages due to inferior net run rate.
Pakistan must defeat England in Kolkata by an almost unthinkable 287 runs in order to move up to the No.4 semifinal slot on net run-rate, ahead of New Zealand. The Pakistani team, which has only advanced to one World Cup semifinal (in 2011) after losing to Australia in the championship game in 1999, was in a similar situation at the 2019 World Cup. In order to eliminate the Black Caps from the semifinals, it had to defeat Bangladesh by over 300 runs in the final league game, but it was unable to accomplish that.
When posed a similar question by a fan during a discussion on 'A Sports', bowling legend Wasim Akram called the query a very valid question, saying: "It's actually a very valid question. It's a very good cricketing question. Chaar saal pahle bhi yeh the, chaar saal baad bhi waha hai aur agle chaar saal baad bhi yahi hone hai [Four years ago it was this, four years after it is this and four years later it will remain the same]."
"We didn't identify the problems properly and failed to make good planning. Players' fitness was not up to the mark. A lot is involved in this issue," Moin Khan, former Pakistan captain, said, agreeing with Akram.
Akram then suggested that they [experts] should do a show after the World Cup, not to delve into the mistakes but to come up with solutions for the team.
"After the World Cup, one show we should do, not just the negative but to give our suggestions, how we can improve. It's okay there is no quick fix, we know that. Quick fix toh nahi hai, maybe time lagega [No quick fix and it will take time]. Hum apni suggestions de sakte hai, do-do teen-teen [We can give 2-3 suggestions]. And whoever is listening they can probably take it with an open heart, from you know no angle nothing," Akram said.
Another former Pakistan skipper Shoaib Malik added that we usually start rebuilding the team but did not persist on the changes required.
"We always start the rebuilding process but we do not stick to the decisions. We don't implement the decisions consistently enough. We should seriously give our suggestions for improvement and there should debate on it," Malik said.
Misbah-ul-Haq, former Pakistan captain and batter, then added that the team should be ready to work on improvement even when the team is performing well.
"When the team is performing, no one is ready to hear the need for improvement. Even fans will say why nitpicking when the team is winning. But you need consistent improvement. Even when we win, we should find out the problems and work on them, so that we can perform better against big teams in big tournaments," Misbah said.
"For example, when our fast bowlers were performing, the spinners' problems were hidden from view. But the team management should plan in such a way that those which are not working should be worked on and seek improvement. If not then when you face big teams or play in big tournaments it will haunt you and will get you exposed. And we will keep saying we lost due to net run rate," Misbah added.
Akram also requested the fans to keep the discussion going even after the World Cup.
"I think all the cricket lovers in our part of the world, they do love their team and they do want to win. I can understand where this is coming from…the frustration and sadness at times. But the problem is the World Cup will finish and we will forget about it. Next June, another World Cup will start and we will remember and say we have to win this World Cup," Akram said. "My request to fans is to keep pushing the issue and change the system. Don't forget it quickly."
Malik then suggested Pakistan team should learn from the hosts and arch-rivals India, who are performing exceedingly well in the World Cup.
"Look at India in this World Cup, they have covered all the aspects. Aspects of the game are not just – bowling, batting and fielding. They suffered an injury scare, but they have the alternate ready. They have planned all contingencies — if this player got injured then this is his replacement and so on.
"I guess to have a pool of players is very important moving forward. We have to focus on this aspect. We have three formats, make different pools of players for them. But the very important thing is to give all players equal chances, so that they remain ready all the time," Malik concluded.
ICC World Cup 2023: New Zealand beat Sri Lanka, are almost through to the semifinals