Football
'Only the beginning' for Ukraine's Shakhtar after shock win over Barcelona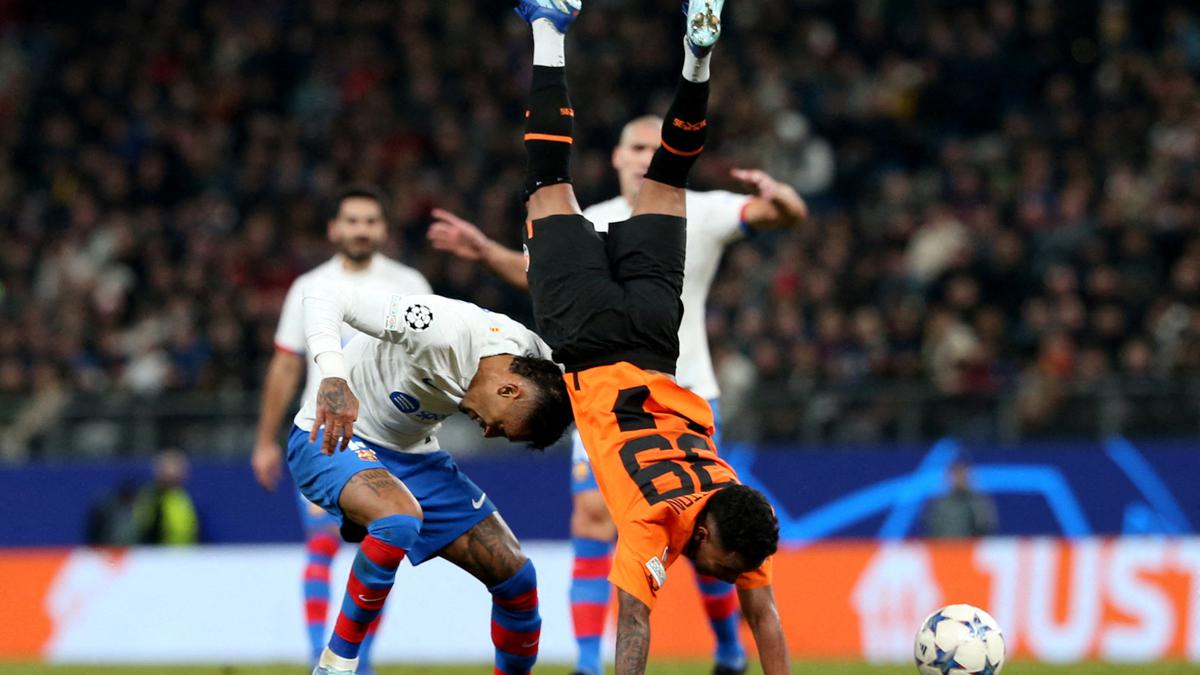 Shakhtar Donetsk's surprise 1-0 Champions League win against Barcelona was hailed by coach Marino Pusic as "only the beginning" for the club and an important step forward for football in beleaguered Ukraine.
The Ukrainian side have not been able to play at their Donbass Arena in Donetsk, now occupied by Russia, since 2014.
But playing Tuesday's match hundreds of miles away in the German city of Hamburg because of the war at home did not prevent Danylo Sikan securing a famous victory over the five-time European winners with a dipping header in the 40th minute.
Barcelona still lead Group H ahead of second-placed Porto, who beat Royal Antwerp 2-0, but Shakhtar play the Belgians on November 28 — they already beat them 3-2 in October — and will be confident of another victory that would give them a genuine chance of reaching the knockout round.
"It is very sweet. But it is sweet not only for me. Of course, I am very glad, but I am tremendously proud of my players and all people at the club who have worked very hard to help me achieve what we achieved tonight," Pusic, a Croat, said.
"Unfortunately, because of the situation in the country, you can call this a home game but for us it is a tremendous part — the travelling, and sometimes we need one or two days extra to recover of course," he added.
"It is not so easy… It is important also for Ukrainian football to represent the country in Europe like we did tonight."
Even if Shakhtar fail to reach the knockout stages of the Champions League, a third-place finish in the group would give them a ticket to the Europa League, where they could come up against some of Europe's big names including Liverpool and Ajax.
"If we achieve that (last 16), it would be fantastic. If not then to stay in Europe would also be a great achievement, amazing achievement even, for this club under those circumstances," Pusic said.
Georgiy Sudakov, named man of the match, said Pusic had taken him aside after the game.
"He said (to me): 'Trust me, this is only the beginning,'" Sudakov said.
Shakhtar held their own from the start.
Barcelona had won the first match between the sides in October 2-1 but this time Pusic's team shut down the reigning Spanish league champions, who produced a solitary shot on target.
Shakhtar forced Marc-Andre ter Stegen into the first save of the game, with the German goalkeeper denying Mykola Matviyenko.
Ilkay Gundogan and Raphinha lashed over from distance as Barca were forced back by dogged Ukrainian defending and veteran striker Robert Lewandowski seemed woefully out of form on his return to Germany, where he had starred for Bayern Munich for so many years.
The hosts took the lead a few minutes before half-time, slicing the visitors open when Giorgi Gocholeishvili took advantage of Barcelona left-back Marcos Alonso being a long way out of position.
The full-back crossed for Sikan, who beat Andreas Christensen to head beyond the reach of Ter Stegen.
Shakhtar's latest Brazilian import, the 18-year-old Newerton, scored a stunning second in the final stages but it was chalked off for offside — it would have been a superb way to crown a glorious night for Pusic's team.
bur-gj/mw