Sport
Nick Jones: The anchor behind Glenn Maxwell's phenomenal knock | Cricket News – Times of India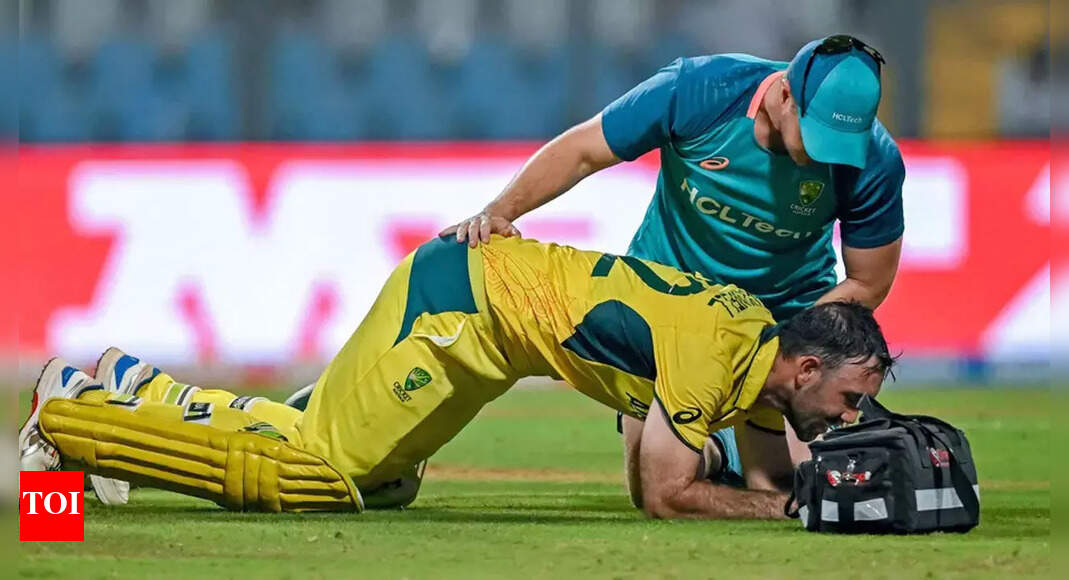 NEW DELHI:
Nick Jones
, Australia's esteemed physiotherapist, played a pivotal role in orchestrating one of the most memorable
World Cup
performances in cricket history. The extraordinary innings by
Glenn Maxwell
against
Afghanistan
in the recent World Cup match is sure to be etched in the annals of the sport for years to come.
In the midst of enduring multiple body cramps, Maxwell felt nearly defeated and contemplated retiring during the critical match.Even his captain,Pat Cummins, could understand the severity of the situation.
However, it was Jones who refused to let Maxwell succumb to the physical challenges. Recognising that standing, minimising running, and focusing on his shots was Maxwell's best chance, Jones encouraged him to persevere.
This strategy proved to be the turning point, not only for Maxwell but for the entire Australian team.
Maxwell's unbeaten 201 not out has now etched its place in history as one of the most remarkable innings under immense pressure, propelling Australia into the World Cup semifinals.
Having worked closely with the Australian team for the past two years and previously treated Maxwell for severe cramping, Jones's decision to advise against leaving the field was instrumental. His insight prevented Maxwell's condition from deteriorating further, ultimately contributing to the stunning victory.
"From there it was obvious we were fighting a losing battle," Jones told cricket.com.au.
"That's not unusual – we see this a lot with lots of different players – but the more running you do, you're bringing (cramps) on more regularly and more quickly. I was going out pretty regularly and I was just trying to keep him calm, trying to down-regulate everything, manage his heart rate and be as assuring as possible," he said.
Jones' told Maxwell, "If we can keep you as upright as possible, you're going to be able to keep going from now'."
Maxwell had got Australia back on the reckoning, lifting the side from 91 for seven but when the side was still 55 runs away from the finish line, Jones had to be summoned again.
"Then he went down like he was shot, lying down like a dead man on the floor," said Jones.
"I got out there and it was his right calf, his left hammy and a few other areas that were all cramping at the same time. While we were giving him a bit of a stretch out, it was at that moment he said, 'I'm done here. I can't keep going. I need to come off and retire.'
"Patty was like, 'go off, get some treatment and you can always come back later'.
"That is reasonable in some situations. But in that one, from my end, if you take someone off in that situation when their system is already depleted, and you sit them down and cool them down – you're not getting them back up.
"Their body shuts down. They often go into full body cramps and you're often not able to get any level of function out of them."
And then came Jones' advice.
"He was struggling big time but I said to Glenn initially, 'look, I think your best bet is to get you up off the ground. 'You're lying down, other things are going to cramp, we need you up on your feet, we need to stretch the key muscle groups that are going'.
"'But if you stay on your feet and minimise your running, I think you can stay out here. I think that's your best bet'. I explained that to Patty … we need to keep him out there and keep him going."
ICC World Cup 2023: Maxwell's double ton takes Australia to World Cup semifinals against Afghanistan
Maxwell listened to that and pulled off one of the most incredible knocks in the history of the game.
"The way it played out from there was absolutely amazing and well beyond anything I expected he could do. I think we made the right call in terms of keeping him out there," he said.
(With PTI inputs)