Sport
Mohammed Shami has been the bowler of the World Cup: Ben Stokes | Cricket News – Times of India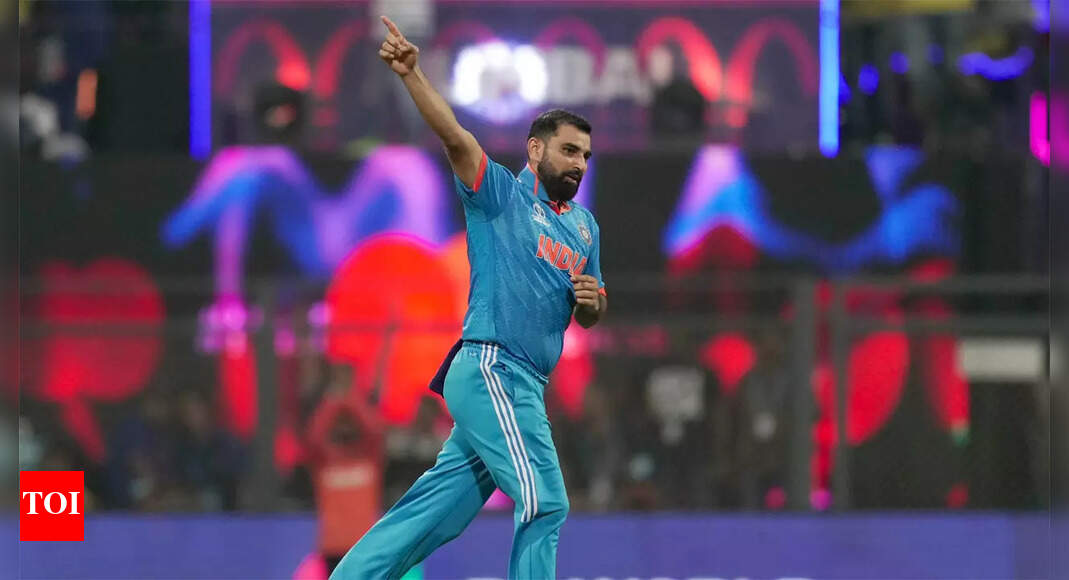 AHMEDABAD: With their consistent demolition job in the 2023 World Cup, India's all-conquering bowlers are now earning lavish praise from the opposition batters they've tormented too. On Friday, England's Test captain Ben Stokes, while talking to the reporters here at the Narendra Modi Stadium, termed paceman Mohammed Shami, who's taken 14 wickets in just three matches at an astonishing average of 6.71, including five for 18 against Sri Lanka at the Wankhede Stadium in Mumbai on Thursday night, as the "bowler of the tournament."
Stokes' admiration for Shami is understandable, given the fact that the veteran left-hander, normally a destructive batsman, was at the receiving end of a superb 10-ball set up by the fast bowler, who eventually rattled his middle and leg stumps with one that skidded through after bowling nine superb dot balls to him, during England's 100-run defeat at the hands of India at the Ekana Stadium in Lucknow on October 29.
Explaining what challenges Shami offers to a batter, Stokes said, "I've played a lot of cricket against Shami. He's a fantastic bowler and I think we watched him last night and they brought a stat up in a World Cup is quite phenomenal actually. He's been obviously the bowler of the World Cup, I think. I don't think he's played every game but the way in which he's, in every situation and every game he's come in it's been incredible the amount of wickets he's taken. He's just found a way to be able to get wicket[s]. Obviously that spell against us was one of many he's had this World Cup. Sometimes you just say to the opposition that you're very good and Mohamed Shami's been very good throughout this whole World Cup."
All-rounder to undergo knee surgery
Meanwhile, the 32-year-old revealed in the presser that he would undergo surgery on a troublesome knee after the World Cup. Stokes has not been bowled at all in the World Cup because of the injury but expects to return in time for the five-Test tour of India, which begins on January 25 in Hyderabad.
"I'll be fine for the Test series in India. But yes, I am having surgery after the World Cup. Not bowling makes it seem a lot longer than what it normally is. But over the last 18 months, it's been 'will I, won't I?' It's probably the first time since I've had this knee issue where it's been quite clear that I'm not going to be bowling," the England superstar said.
Quizzed on whether he knew the specifics of what exactly the surgery will involve, Stokes, sporting a wry smile, offered an answer that left everyone in splits. "Well, so we go to those meetings and generally take a physio and a doctor with me and then those two-start talking and then I just turn up and get put to sleep, wake up and hopefully it's better," he said.
'Nothing's worked'
Meanwhile, looking despondent, Stokes minced no words while conceding that "nothing's worked" in England's disastrous World Cup campaign. The defending champions have lost five of their six matches to lie bottom of the 10-team table and another defeat on Saturday in Ahmedabad against arch-rivals Australia could even put their 2025 Champions Trophy qualification chances in jeopardy.
"I think the problem is that we've been crap. To be honest with you, we've been crap. Everything we've tried throughout this World Cup, through trying to put pressure back onto the opposition in a way in which we know, or trying to soak up the pressure in a different way, which we know we've done before and been successful with, it's just not worked," ," Stokes said.
"Every opportunity that we've had in front of us where we feel like we can take control of the game, the opposition's managed to get it back towards them. And we've just not been able to put a full game together," he added.