Sport
'Iss debate ka koi answer nahi aana…': Wasim Akram on Angelo Mathews' controversial 'timed out' dismissal | Cricket News – Times of India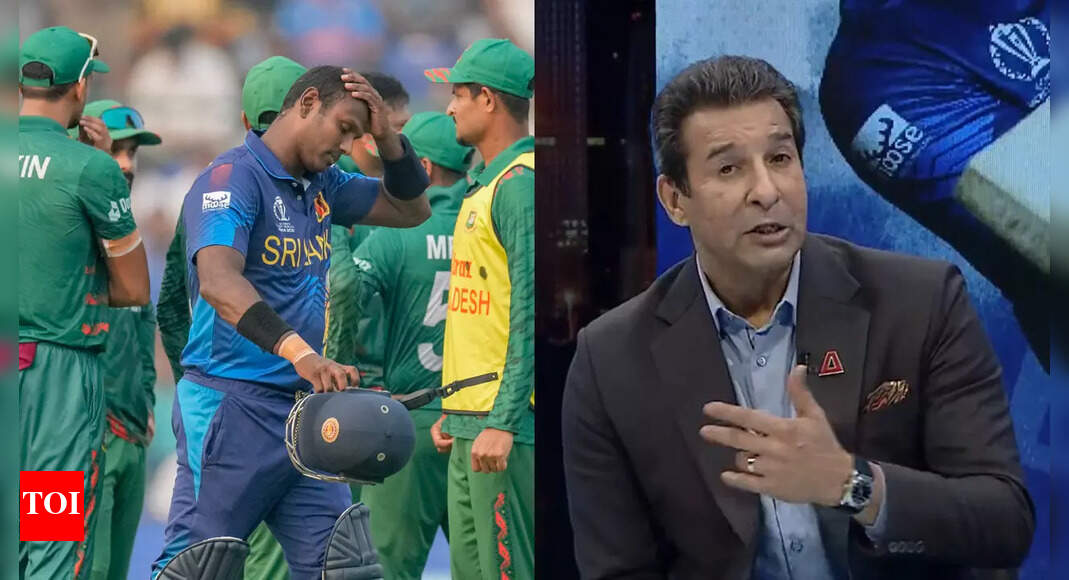 NEW DELHI: The hottest talking point right now at the ongoing ICC ODI World Cup is not who will make it into the remaining two semi-final slots, but was it right to give Sri Lanka batter
Angelo Mathews
timed out against Bangladesh on Monday.
Huge controversy erupted after Mathews became the first cricketer to be timed out in international cricket at Arun Jaitley stadiumin Delhi.Mathews later demanded 'justice' from the ICC on social media and called the decision 'cheating'.
The incident revolved around Mathews' failure to comply with the World Cup rule, which stipulates that a new batter must be ready to face a delivery within two minutes of a wicket falling. Mathews, however, argued that he had been ready with seconds to spare before the chinstrap on his helmet broke, necessitating a replacement.
Backing his position with time-stamped video screenshots, he stated, "Video evidence shows I still had five more seconds even after the helmet gave away!"
During a discussion on 'A Sports', former Pakistan captains mostly agreed with the Sri Lankan but the opinions were not unanimous.
Former skippers Misbah-ul-Haq and Shoaib Malik categorically stated that they would not have appealed at all. Bowling legend Wasim Akram said that it will depend on the situations, adding it would not have crossed his mind. But another former captain Moin Khan sided with Bangladesh captain
Shakib Al Hasan and said he would have taken the same decision to appeal.
"I would have not appealed," Malik and Misbah said unanimously.
"Depends. I have been truthful. Depends on the situation. Team kaun si hain, situation kya hain, but in general if you look at the bigger picture, mere jahan me yeh baat na aati [Depends on who is the team, what is the situation, but generally speaking it would not have crossed my mind]," Akram said.
Moin Khan, who came out fully in favour of the decision, said: "I think yeh main field par lene wala decision hota hai. I think who legally unhone decision theek liya. Koi bhi hota, agar uski team ka matter hota, winning or losing matter kari hoti uss waqt. Unhone clearly yeh baat boli. I think it was a good decision. Main hota toh main bhi le leta [These are decisions taken on the field. Legally, Shakib took the right decision. If it is a matter of winning or losing, which he clearly mentioned. It was a good decision and I would have appealed if I was the captain]."
Akram also read out the BBC Sports' verdict on the decision: "Abhi humne umpires se sun liya, dono captaanon se bhi [We have heard from the umpires and both captains too]..BBC Sports jo kah raha hai — 'When it comes to time out, the incoming batter has to be in a position to receive the ball within two minutes. The TV umpire monitors the two minute and he will then relay the message to the standing umpires. In this instance the batter wasn't ready within two minutes even before the strap became an issue for him.'
Angelo Mathews's 'timed out' dismissal triggers debate: Playing by the rules or lacking sportsman spirit?
Misbah agreed that it was within the law, but questioned 'where is the common sense?
"Fourth umpire ne toh clearly kah diya na ki equipment ki theek hona na hona yeh bhi batsman ki zimmedari hai. Theek hain, law me likha hai…OK, fine. But where is the common sense? Usne yu kiya tight karne ke liye, taeyaar tha who khelne ke liye, par woh strap nikal gaya hai, toh…[Fourth umpire has clearly stated that the responsibility of equipment falls on the batter. So by law, it was fine. But where is the common sense? Angelo was ready to bat, and when trying to strap his helmet it broke…]," Misbah said.
Akram retorted that there is no end to this debate, saying "Yeh debate hum karte rahenge, iss debate ka koi answer nahi aana. Timing hui ki nahi huwi? But the main question everybody is asking is – ki Shakib ko appeal wapis leni chahiye thi ya appeal karni hi nahi chahiye thi? [There is no answer to this debate. Whether it was timed or not? But the main question everybody is asking is – should Shakib retract his appeal or he shouldn't have appealed at all?]," Akram added.
World Cup 2023: Angelo Mathews becomes first ever player to be timed out in cricket | Sri Lanka vs Bangladesh
"Har captain ki apni apni hoti hain. Agar main captain hota toh main kabhi bhi appeal nahi karta [Every captain is different. But if I were the captain, I would not have appealed]," Malik repeated his answer again.
Misbah, while agreeing with Malik, added that the incident had left a bad taste to the match and it was played in a tense environment.
"Mere khayal me bhi nahi. In the true spirit of the game. Ya toh tumhe koi nuksan ho raha hein, jaan bujh ke woh delay kar raha hain, aapki over delay ho jaati hain. Match ke result pe koi effect ho raha ho iss cheez ka, aap ko koi fine ho raha ho…But there was nothing. If you want to play proper cricket, 10 second, 15 second upper niche ho gaya toh, doesn't matter. Iske baad dekhe, 'where was the spirit of the game after that'. Ek ajeeb si khicha huwa maahol tha, ek dusre ko dekh rahe hain, it was all wrong. [I also wouldn't appeal. Either the delay was hurting your team or it was deliberate. Either it will affect the match result or you will be fined for the delay. But that was not the thing. 10-15 seconds delays do not matter. Look what has happened in the match after the incident. It was played in a tense environment]," Misbah added.
Malik then explained what could have happened due to the delay in the match.
"Unki joh strap problem huwi hein yeh toh kisi ke saath bhi ho sakta hain. Maximum ek cheez ho sakti thi. 40 overs ke baad who over rate me pichche hote aur unhe fielder ander lana parna tha. Lekin aisa incident hota hai toh umpire kya karta hain, woh time ko rok dete hain [Equipment malfunction could have happened with anybody. Maximum one thing could have happened to Bangladesh. After 40 overs, if their overrate is slow they have to bring in a player inside. But in such an incident, umpires stopped the clock. So, it was not that situation either]," Malik concluded.