Cricket
India, South Africa will be tough to beat, admits Steve Smith as Australia look to seal semis berth | Cricket News – Times of India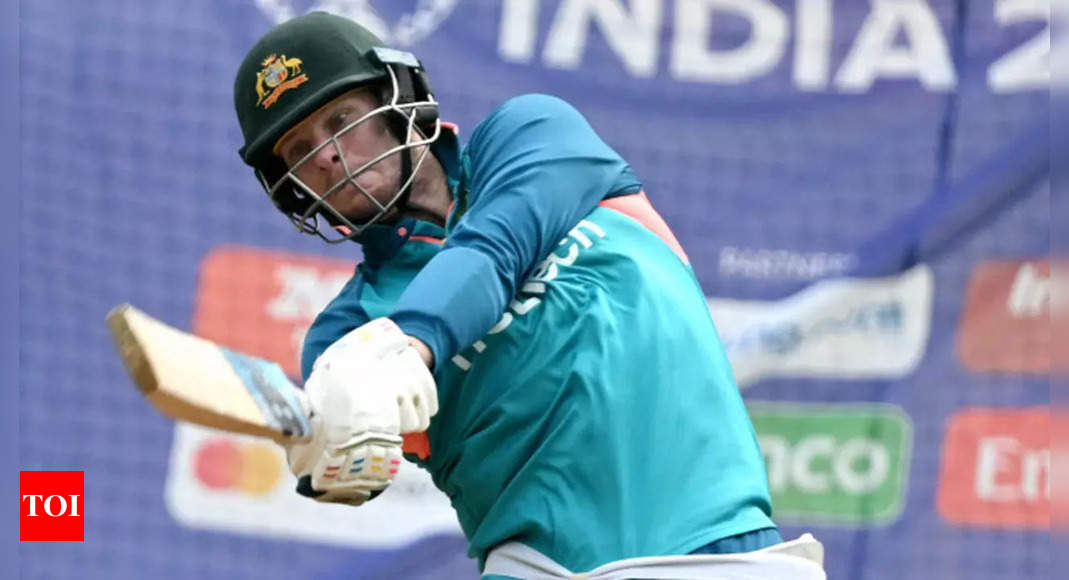 NEW DELHI:
Steve Smith
on Monday expressed optimism about Australia hitting their peak at the perfect moment, with a winning streak of five consecutive victories in the
World Cup
. They stand on the verge of becoming the third team — alongside India and South Africa — to secure a spot in the semifinals.
India are poised to claim the top spot on the points table, while South Africa have already secured a place in the final four.Australia have the opportunity to join these two teams by securing a victory in their upcoming match against Afghanistan, scheduled to take place in Mumbai on Tuesday.
"You do want to be peaking at the right time in the end, but obviously you need to do enough to make the semifinals. I think that would be the beauty of it if we were able to get there," Smith told the media before Australia's training session at the Wankhede Stadium.
"You know, we had a rough start, we lost two games and we have gradually, I guess, progressed as we have gone along and there are still areas we can work on," said Smith, adding that even though all-rounders Mitchell Marsh and Glenn Maxwell are back to training, it remains to be seen if they get a nod for the contest on Tuesday.
Smith acknowledged that India's significant victory over South Africa, a team that has been performing as the second-best in the tournament, adds to the challenge for Australia moving forward.
"Tomorrow (on Tuesday) is a big game for us. I think if we win — we qualify — if that is correct. I think you want to be peaking at the right time for sure and the two teams up top are playing really good cricket, in particular India, who beat the second team, South Africa, yesterday pretty convincingly," Smith said.
"They are going to be tough to beat — there is no doubt about that. But I think we are playing some good cricket so hopefully we can have a good day, get ourselves in there and give ourselves a chance," the middle-order batter added.
Smith encouraged the Australian players to rally behind their captain, Pat Cummins, acknowledging his dedicated efforts in steering the team out of a difficult position after facing two losses at the beginning of the tournament.
"He has improved as it has sort of gone on. He has got the tempos of the game, he is understanding the pace of the game a lot more and like I said he has not done it a lot, so he is sort of working into it," Smith said.
"He has done a terrific job after we were particularly 0-2, to get us in the position where we are now. We are right behind him and hopefully we can play well for him," Smith said.
Smith revealed dealing with the issue of vertigo as he addressed the media but hoped that he would be fine for the game.
"Occasionally, I have had a few episodes, so I can tell you it is not the funnest space to be in, but yeah, I will go out and have a hit and hopefully be okay and we will see how we go," he said.
Australia taking on Afghanistan in a cricket game will have political notes added as well given Cricket Australia cancelling their ODI series earlier this year, but Smith refused to make any comments on the issue.
"It is far above my pay grade," he said.
"We obviously played against Afghanistan in the T20 World Cup at home recently and we are playing tomorrow so it is not a question for me," he added.
The Australian batsman commended Afghanistan for their ability to seize crucial moments in this World Cup, contributing to their impressive campaign. Despite being in the sixth position, Afghanistan still hold a chance to secure a spot in the semifinals.
"They have won some key moments in games against some good teams and clearly their spinners are a big threat. They are quality bowlers and they have got some batters particularly at the top of the order that are taking the game on and can take it away from you," Smith said.
Australia have emerged victorious in the last four games after batting first. Smith suggested that they might adhere to this winning formula, considering how other teams have performed at the Wankhede Stadium.
"Firstly, I'm not sure, I think (at) this ground — we have seen South Africa score 400-odd I think batting first, it can be a very good chasing ground so we have got to sum a few things up obviously before we make that decision," Smith said.
With Adam Zampa leading the bowling chart among highest wicket-takers in the World Cup, Smith said the leg-spinner has been at the top of his game.
"He has progressed beautifully throughout this tournament. He bowled beautifully the other night and to be fair England batters probably did not put him under as much pressure as we thought they might have done," Smith said talking about his 3/21 against England in Ahmedabad.
"He controlled his length and his pace beautifully and it is probably as good as I have seen him bowl to be fair, and did he not just have a good day out with that ball and in the field!? It was a special day for him and yeah pleased to see," Smith added.
(With PTI inputs)