Sport
IND vs NED | India defeats Netherlands by 160 runs; ends league stage with 9 straight wins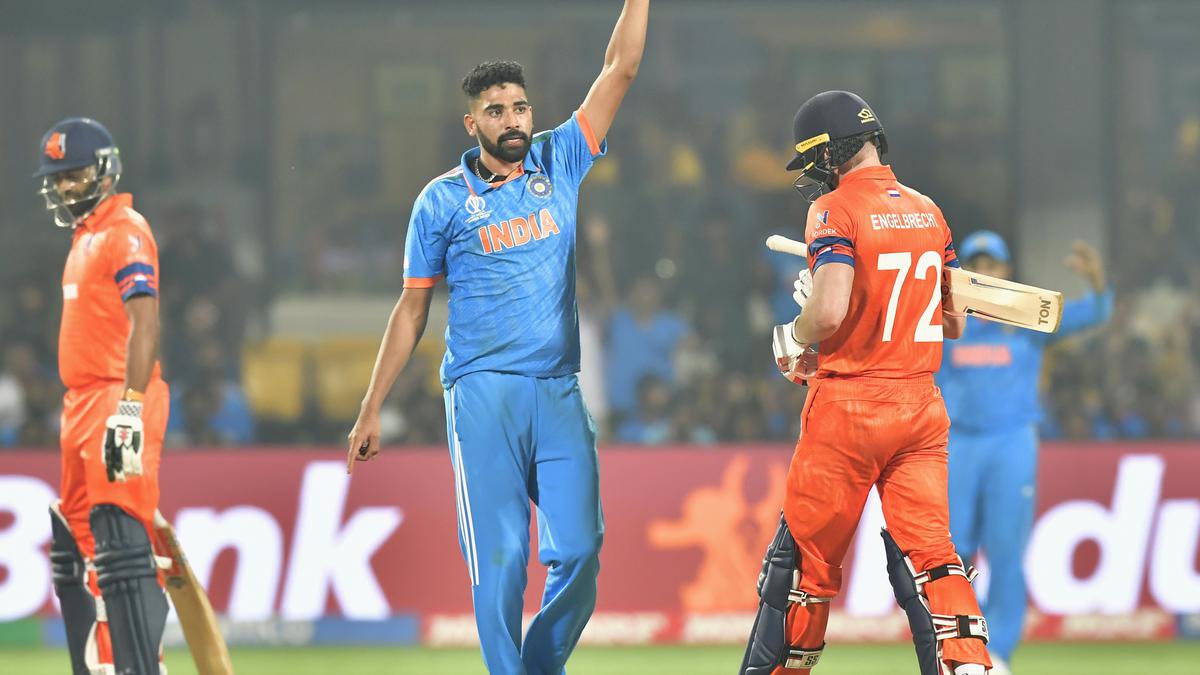 The Diwali weekend spirit was in vogue at the M. Chinnaswamy Stadium and India contributed some non-polluting fireworks. The Men in Blue lit up the skies as first up Shreyas Iyer and K.L. Rahul slammed fiery tons before the bowlers got to work with swirling kites for company.
Chasing India's 410 for four, the Netherlands struggled to stay afloat here on Sunday. The visitors mustered 250 in 47.5 overs and Rohit Sharma's men won by 160 runs. The host finished its World Cup league engagements with nine wins on the trot and will take on New Zealand in the semifinal at Mumbai on Wednesday.
Mohammed Siraj caused the first breach, scalping Wesley Barresi. Max O'Dowd and Colin Ackermann resisted and played a few shots before the latter succumbed to Kuldeep Yadav. Ravindra Jadeja then dismissed O'Dowd, the ball homing into the stumps past a tentative bat.
Soon the crowd was on its feet when Virat Kohli got Scott Edwards to feather an edge. There was delight all around and this emotion lingered through the night even as the Netherlands stretched its innings.
In the afternoon, Rohit won the toss, elected to bat and the Netherlands immediately employed spinner Aryan Dutt. The Indian skipper proved equal to the task and swept two fours. Seamer Logan van Beek kept it tight for a bit and Rohit and Shubman Gill sought relief by lashing at Aryan.
Gill pounded a six and when Ackermann ambled in, Rohit square-drove and lofted with elan. Paul van Meekeren then felt the heat of Gill's bat. The opener etched his 50, India got its 100 and the batter then fell to Meekeren. The stadium soon erupted with vociferous cheers as Kohli walked in.
Rohit, meanwhile, raced to his 50 and went down the route that Gill had taken, failing to get past a fielder in the deep. India was 129 for two in 17.4 overs and Kohli and Shreyas Iyer stitched a partnership. Kohli pulled Bas de Leede and the crowd began its 'RCB' chants, an obvious reference to Kohli's IPL link with the city since 2008.
Kohli's 50 had an air of inevitability and just like Gill and Rohit, he too fell while hustling the runs. Rocking back to cut Roelof van der Merwe, Kohli heard the timber rattle. Local boy Rahul stepped in while Shreyas cruised to his 50, tucking into the spinners and seamers with lovely drives and dapper pulls. Shreyas thumped a six off van Meekeren while Rahul too joined the '50 bandwagon'.
Both Shreyas (128 n.o., 94b, 10×4, 5×6) and Rahul (102, 64b, 11×4, 4×6) got to their respective tons, the former pinching a single, the latter rushing headlong into three figures with two sixes in the last over bowled by Bas de Leede. Rahul was dismissed in the penultimate ball of the innings but by then his 208-run fourth-wicket partnership with Shreyas had set India way too high on the batting pedestal and the Netherlands was left gasping.
Scores:
India: Rohit Sharma c Barresi b de Leede 61 (54b, 8×4, 2×6), Shubman Gill c Nidamanuru b van Meekeren 51 (32b, 3×4, 4×6), Virat Kohli b van der Merwe 51 (56b, 5×4, 1×6), Shreyas Iyer (not out) 128 (94b, 10×4, 5×6), K.L. Rahul c Engelbrecht b de Leede 102 (64b, 11×4, 4×6), Suryakumar Yadav (not out) 2 (2b)
Extras: (lb-1, nb-1, w-13): 15
Total (for four wkts., in 50 overs): 410
Fall of wickets: 1-100 (Gill, 11.5 overs), 2-129 (Rohit, 17.4), 3-200 (Kohli, 28.4), 4-408 (Rahul, 49.5)
Netherlands bowling: Aryan 7-0-52-0, van Beek 10-0-107-0, Ackermann 3-0-25-0, van Meekeren 10-0-90-1, van der Merwe 10-0-53-1, de Leede 10-0-82-2
Netherlands: Wesley Barresi c Rahul b Siraj 4 (5b), Max O'Dowd b Jadeja 30 (42b, 3×4, 1×6), Colin Ackermann lbw b Kuldeep 35 (32b, 6×4), Sybrand Engelbrecht b Siraj 45 (80b, 4×4), Scott Edwards c Rahul b Kohli 17 (30b, 1×4), Bas de Leede b Bumrah 12 (21b, 1×4), Teja Nidamanuru c Shami b Rohit 54 (39b, 1×4, 6×6), Logan van Beek b Kuldeep 16 (15b, 2×4), Roelof van der Merwe c Shami b Jadeja 16 (8b, 1×4, 2×6), Aryan Dutt b Bumrah 5 (11b), Paul van Meekeren (not out) 3 (4b)
Extras: (lb-9, w-4): 13
Total (all out in 47.5 overs): 250
Fall of wickets: 1-5 (Barresi, 1.3 overs), 2-66 (Ackermann, 12.1), 3-72 (O'Dowd, 15.1), 4-111 (Edwards, 24.3), 5-144 (de Leede, 31.6), 6-172 (Engelbrecht, 37.3), 7-208 (van Beek, 42.1), 8-225 (van der Merwe, 43.4), 9-236 (Aryan, 46.1)
India bowling: Bumrah 9-1-33-2, Siraj 6-1-29-2, Shami 6-0-41-0, Kuldeep 10-1-42-2, Jadeja 9-0-49-2, Kohli 3-0-13-1, Gill 2-0-11-0, Suryakumar 2-0-17-0, Rohit 0.5-0-7-1
Teams:
India: Rohit Sharma (c), Shubman Gill, Virat Kohli, Shreyas Iyer, KL Rahul (w), Suryakumar Yadav, Ravindra Jadeja, Mohammed Shami, Jasprit Bumrah, Kuldeep Yadav, Mohammed Siraj.
Netherlands: Wesley Barresi, Max ODowd, Colin Ackermann, Sybrand Engelbrecht, Scott Edwards (w/c), Bas de Leede, Teja Nidamanuru, Logan van Beek, Roelof van der Merwe, Aryan Dutt, Paul van Meekere.