Sport
I need to get better technically and mentally for Paris 2024, says archer B. Dhiraj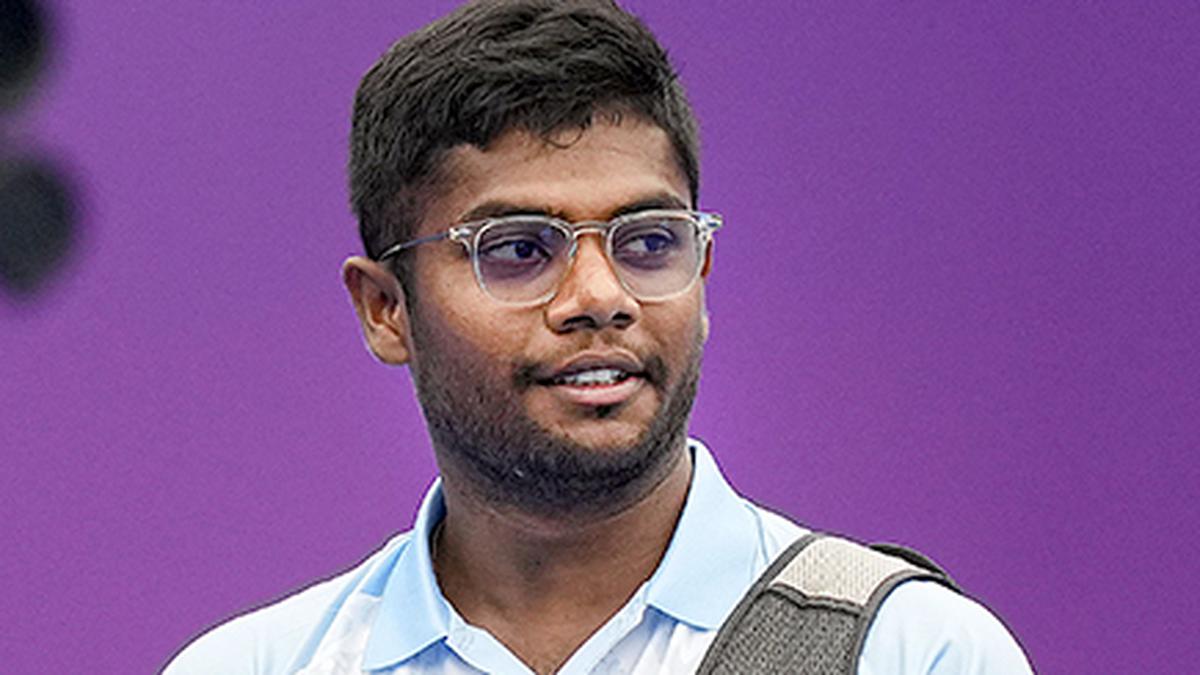 The year 2023 has been a breakthrough season for the 22-year-old B. Dhiraj, who secured the country's first quota place in archery for the 2024 Paris Olympics. The Vijaywada archer displayed his potential, securing six medals (individual and team events) apart from winning a slot in the Games. He is raring to prove his worth in the French capital in less than a year's time.
Hailing from a humble background, Dhiraj, who took up archery in 2006 after being guided by his father Shravan Kumar (who later worked as a technical official with the Archery Association of India) and learnt the basics of the sport at the Chekuri Volga Academy before switching to the Army Sports Institute (Pune) in 2017, has taken his time to develop into a world-class archer and is waiting to make a mark.
In an interview with The Hindu, Dhiraj, supported by Olympic Gold Quest, looked back at the fruitful year and the challenges ahead.
ALSO READ: Dhiraj earns India's first archery quota place for 2024 Olympics
Q: It must have been a proud moment to earn the first quota place for the country in archery. You have been very consistent in 2023. How do you look back at it?
A: Yes, I have performed consistently well this year even though there were some ups and downs. I got to learn a lot of things throughout the year. I am happy that I have achieved the main target of winning a quota place for the country, but at the same time, I am a bit upset that I lost in the quarterfinals of the Asian Games. In the Asian championships, we lost by one point (in a shoot-off) to Kazakhstan (in the men's team event quarterfinals). But the quota place makes up for everything and underlines the hard work.
Q: You said you learnt a lot this year. What have you learnt from your experience and how will this help you work on your game and improve it?
A: A lot, actually. So far, all that I had learnt till the start of this year was one side of it and this year, I learnt the other side. I learnt several things — technically and mentally. I beat a few tough guys (including World and Olympic medallist Brady Ellison) and lost some matches closely. There are several small things which I learnt and when I put everything together it turns out to be a big learning curve. All this has helped me upgrade my game.
Q: There were a lot of tournaments and exposure trips, including several domestic events and trials, this year. Have they helped?
A: Yes, the exposure and experience of competing in big events helps. I competed in World Cups and won medals (one individual and three men's team medals, including a silver). Such competitions, in high-quality fields, push you to do better. But every exposure is not important because you also need rest in between.
Q: Talking about the 2023 season, you witnessed the shocking incident of two of your arrows missing the target altogether during the Asian Games (individual quarterfinal clash against Kazakhstan's Ilfat Abdullin). How did you recover from that?
A: I began with a perfect 30 in the first set and I was blank when my first arrow missed the target in the second. It had never happened to me even during training. I realised something went wrong just a fraction of a second before the release and it was too late by then. But I thought all was not lost and I would fight from here. I blocked all emotions and thought practically. But it happened for a second time (in the fourth set) but I held myself up and fought (before losing 6-5, via a 10-9 shoot-off). After the competition, I broke down. I was frustrated and emotionally drained. I tried to gather myself, but it happened five-six times and I thought of quitting archery altogether. But Atanu (Das) bhaiya — my idol along with Tarundeep Rai — supported me.
When I interacted with archers of other countries, including another role model of mine (World and Olympic champion Kim Woo-Jin), they consoled me saying such things do happen. My teammates also backed me. I tried my best to be ready for the team event which happened two days later. But I did not have the courage to do my usual role of opening a set. So I asked my two fellow archers whether I could be the last man to shoot (even though it was always a pressure job)… Atanu and Tushar (Shelke) agreed immediately. When I scored a 10 with my first arrow, I regained a lot of confidence. And we landed a team medal after 13 years.
In a way, the manner in which I bounced back helped me develop a strong mindset. I thought nothing could be worse than this and if I could fight back from such a situation, I could only do better. As I look at Paris, I have no apprehensions.
Q: Even though compound archers have been producing eye-catching results in top-level events, including the World championships, what is the reason behind the recurve archers' below par showing in elite competitions such as the World championships and Olympics?
A: We have to understand that our compound archers have been giving good results for a long time now. Once someone achieves something and breaks the mental barrier, good results follow. We need to do that in recurve.
The other point is compound and recurve archery are totally different from each other. Korea has been ruling recurve archery for ages, they have been at the top in the last nine Olympics. But in this year's World championships, they were nowhere (won just two gold medals). Several countries have won medals this time. This clearly gives an idea as to how the competition has increased.
This year, I have won six medals (including individual and team medals in World Cups, Asian Games and Asian championships), which is way better than what any (male) archer has done in the past four-five years. Instead of comparing yourself with others, if you compare your own performance with that of the past, you will get to know the improvement.
Of late, the support from the Government, our sponsor NTPC and our federation has been good. It plays a very important role in better performance and results. If it continues and we get the right kind of exposure and training camps, like we got ahead of the World championships, I am sure our archers will give positive results and we can medals at any level of competition.
Q: How do you plan to prepare yourself for the biggest challenge, the Paris Olympics, next year?
A: I was in the Tokyo Olympics as the fourth archer (a reserve). I have seen the tremendous pressure our three archers (Atanu, Tarundeep and Pravin Jadhav) had to deal with while competing. Pressure will be there. That's why one needs to continuously get better technically and mentally to be ready for that kind of challenge. That's why I feel if I compare my own performances of past and present, I have a scope for improvement. From scoring 660-670 (during the qualification round) earlier, I improved to score 683 in the World championships (to be second in the rankings). I realised how all the exposure helped me raise my game and an athlete's improvement never stops. It goes on till the end as you never stop learning.