Sport
Glenn Maxwell | Demolition man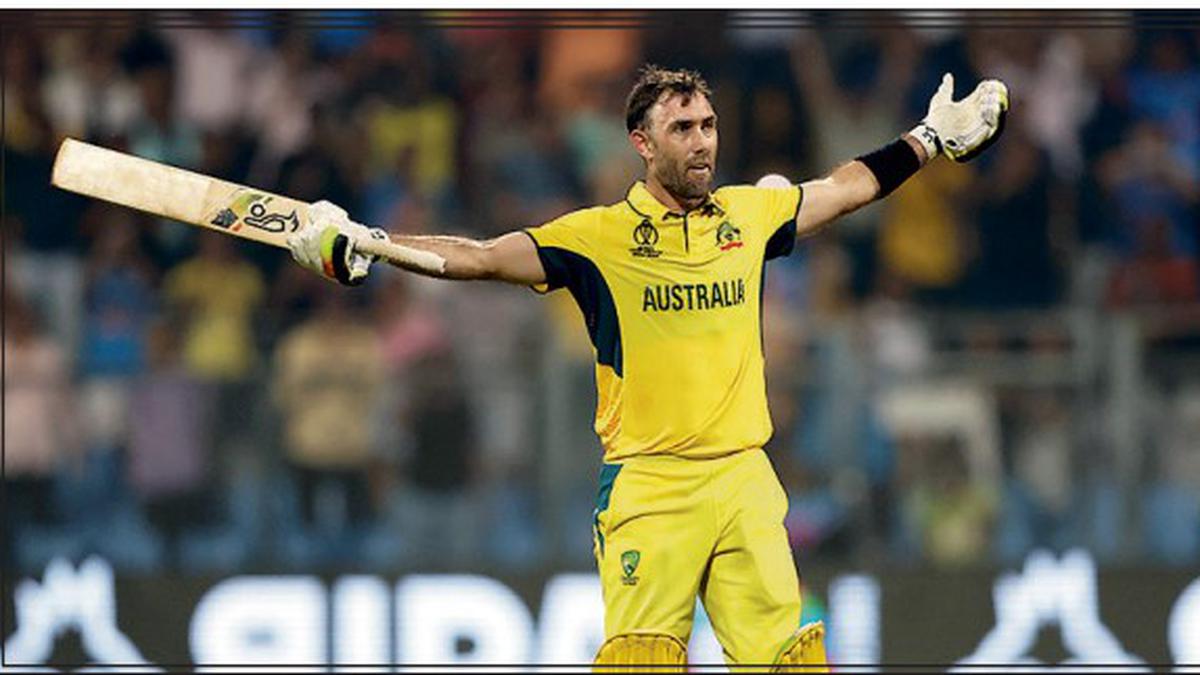 Bored shepherds clouting a taped ball with a piece of wood in ancient Britain was the genesis of cricket before it acquired sophistication and rules. In its most elementary form, it still remains what those bored lads with sheep to tend, did. Swinging a bat and sending the ball high into the skies or past a long distance.
That primordial touch still lingers in many batters, a trait that finds exposition in One Day Internationals and Twenty20s. Among the medley of batting marauders, Glenn Maxwell has carved a distinct niche. The Australian, with roots in Melbourne, plays a method that is sharpened with speed, kinetic energy, malleable limbs, especially hands, and astounding game-awareness.
After 35 summers of top-flight cricket, donning the Aussie yellow shade or varied jerseys in the Indian Premier League, Maxwell dipped into all that experience while hammering a chart-busting unbeaten 201 (128b, 21×4, 10×6) against a stunned Afghanistan at Mumbai's Wankhede Stadium on November 7. Chasing Afghanistan's 291 for five, Australia was sinking at 91 for seven when Maxwell found a patient ally in skipper Pat Cummins.
The duo's 202-run partnership for the eighth wicket, scripted a miraculous win for the Aussies and by the end of that feverish night, Mumbaikars were completely besotted with Maxwell. In World Cup history, this was akin to Kapil Dev's marvellous unbeaten 175 against Zimbabwe during the 1983 World Cup. India back then was struggling at 17 for five when the captain dished out an astounding innings, a knock that inspired the Indians to eventually win the trophy.
Maxwell was physically drained with Mumbai's lingering heat and humidity sapping his veins. Cramps set in, often he was like a cat on a hot tin roof, twitching and collapsing, and at times lying flat on the ground. This was similar to what the late Dean Jones did while scoring his 210 against India in the famous tied Test in Chennai during the 1986 tour. With the southern metro's heat deflating him, Jones threw up, lost control of his bladder, but soldiered on.
There is another thread that binds Maxwell and Jones as the latter was one of the original ODI specialists. Jones was the kind, who would dance down and lash fast bowlers over covers, run hard between the wickets, and field with tigerish zeal. These are attributes that enrich Maxwell; additionally, he bowls off-spin too and is a good all-rounder.
Master of shots
Australia has one of the finest cricketing systems in the world and players emerge as strong blokes, willing to quell raging fires. It is famously said that the Waugh twins — Steve and Mark — were ultra-competitive in backyard cricket while sibling love was nudged to the side. Having grown through such a first-class structure, Maxwell remains a tough cookie.
What distinguishes him is his penchant to create angles where none exist. South African AB de Villiers did this before, India's Suryakumar Yadav does this now, and Maxwell remains a master. To shuffle across the crease and tip one over the head of the fielder at short fine-leg, or do a reverse-ramp shot and flummox the opposition captain, or to just stand and tee off like a golfer, drilling deep and wide, all these shots emerged like a fusillade from Maxwell's bat. Later, he spoke about how playing golf helped him fine-tune these strokes. How do you strike past a tree on the course? Obviously innovate and flex your wrists. With his legs in a shambles, Maxwell stood rooted to the crease and just relied on his hand-eye co-ordination to demolish the Afghan bowlers. He may look like a messiah now but he is fragile too. A few years back, he took a 'mental health' break, coping with the dark fog that crept into his mind.
It should also be noted that Maxwell never prospered in Tests and has just played seven games. Unlike David Warner, who seamlessly flits between Tests and abridged cricket, Maxwell hasn't found that switch yet. But with strike rates of 127.06 and 150.97, respectively, in ODIs and T20Is, Maxwell is the reigning deity of shock and awe on the cricketing turf. When he prospers, Australia soars high past bruised rivals.