Sport
Glenn Maxwell: Amateur golfer who has always been a freak | Cricket News – Times of India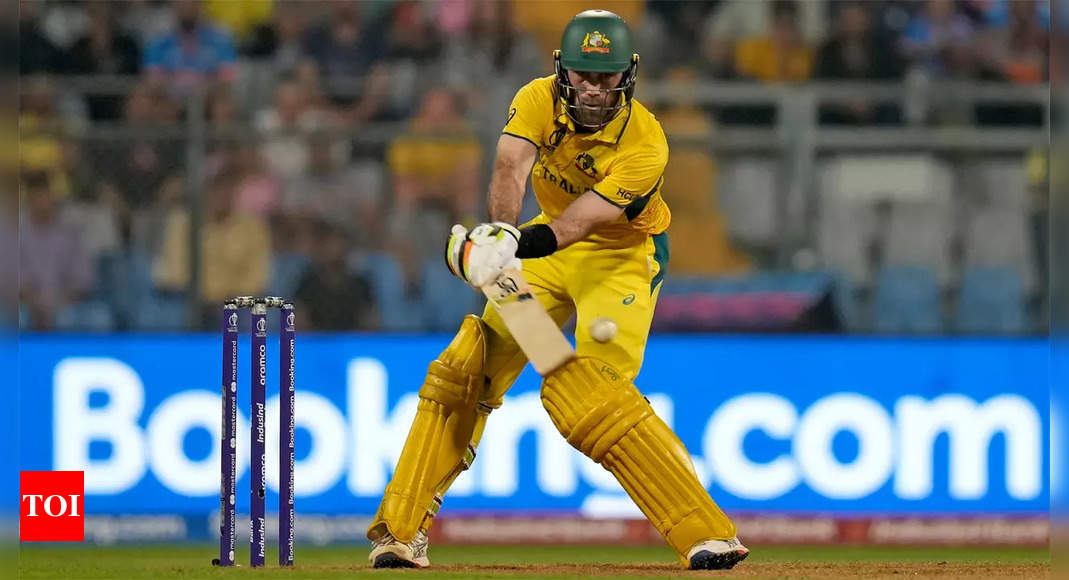 NEW DELHI:
Glenn Maxwell
has been one hell of a freak.
Whether it's his breathtaking shots that leaves everyone in awe or the bizarre accidents he has met with — snapping his knee at a house warming party and more recently, falling off a golf cart that forced him to miss a World Cup game.
Before one found a grimacing Maxwell on the ground against Afghanistan, he laid on the lawn of his friend's home for over an hour, last year.Many didn't know what was in store for him.
He heard his left knee snap while playfully chasing a friend, who was also his ex-teacher. The moment he slipped and his entire body weight fell on his left leg, he knew that he had done some serious damage to his left leg.
He simply couldn't get up in fear as other friends got a makeshift tent and covered him from the rain.
He was taken to the hospital and diagnosed with a broken fibula which kept him out of a Test series in India earlier this year. Nearing 35, his Test career seemed over but there was something that was still left.
"I think now I can make sure that for the back end of my career, I'm fit, strong, healthy and hopefully in a better state for next year's World Cup and all tournaments going forward," Maxwell had said on "Unplayable" podcast.
He did recover in time to play the
IPL
. He had a middling season with 400 runs in 14 games, including five fifties at a strike-rate of 183 plus.
Glenn Maxwell's Once in a Lifetime Innings: Cramping Maxwell plays through pain for a World Cup epic
Like his reverse sweeps for six off express pace, Maxwell's injuries are also freak. Last week, he suffered from concussion while sitting on the back of a golf car in Ahmedabad after a round on the greens. But as luck would go, he slipped and fell, leaving a bruise on his head and was left out of the England game due to concussion protocols.
However, it is Maxwell's passion for golf and tennis, which many believe has led to a fabulous hand-eye co-ordination, that allowed him to even play without any footwork on a memorable Tuesday night.
"Maxwell has a (golf) swing of 400 metres," former Pakistan skipper Misbah ul Haq said on A Sports.
Maxwell was also a decent tennis player in his teens and hence the free swing of arms that was visible against a shell shocked Afghanistan was training of years.
Those who play golf and practice swing know that all it needs is arm extension and a swivel of hips with no feet movement when one is hitting long.
From Sachin Tendulkar to Virat Kohli- praise for Glenn Maxwell's fabulous double century
Those hours at the golf course did Maxwell a world of good when he couldn't move his leg due to cramps as he created a stable base and just with minimal hip movement and maximum arm speed (something that tennis players develop), hit those 10 towering sixes.
But even before Maxwell became an international superstar and months before he made his Australia debut in 2012, he was picked by Delhi Daredevils. He played only two games that year and the world hadn't really warmed up to him.
But those who witnessed his training sessions knew what brute strength he had. There was one training session held to mark the inauguration of the Sehwag International School in Jhajjar, Haryana.
Not many of the top line players came all the way for that session at Sehwag's boarding school but Maxwell, a junior overseas player did turn up.
And some of the sixes he hit that afternoon with minimal footwork was a sight to remember. One man, who got a pasting was young off-spinner named Tejasvi Yadav, who was also a part of the DD squad.
Like hitting bowlers out of the park was Maxwell's calling, Tejasvi soon found his calling in politics and now is the Deputy Chief Minister of Bihar.
What worked for Maxwell on Tuesday
There are two things that worked to his advantage — the over-pitched deliveries by the Afghans, which were bowled on the stumps and was in his hitting arc.
The second was about trajectory and Shoaib Malik, who is certainly one of the best yet under-rated analysts in world cricket, made an interesting observation.
"Most of the Afghanistan spinners have a lower and flatter trajectory with a pace that batters can work on. Had a Mitchell Santner or a Keshav Maharaj would have been bowling in that situation, they would have tossed it up and taken the pace off deliveries.
"The slower the delivery is, more power you need to generate and also reach those balls to hit big. There Maxwell had that advantage," Malik said on A Sports.
For the pacers, none of the bowlers would try what Dwayne Bravo used to successfully do in IPL and even would stop a marauder like Maxwell in his tracks — coming round the wicket and bowling wide yorkers, which would have been extremely painful for Maxwell to reach.
For Maxwell, nothing has come easy. He has spoken about how he battled depression in 2018 when felt that he could no longer bottle things up within himself and had to seek professional help.
The Maxwell in the past couple of years have shed his inhibitions, is in a happy space after marriage to longtime partner Vini Raman and the fatherhood makes him look at life beyond cricket.
What he achieved on Tuesday, was another freak show — it happened 40 years ago in an ODI and it might another 40 years to match that "superhuman" effort.