Football
Freestyler Jamie Knight impressed with footballing talent after school workshop in Mysuru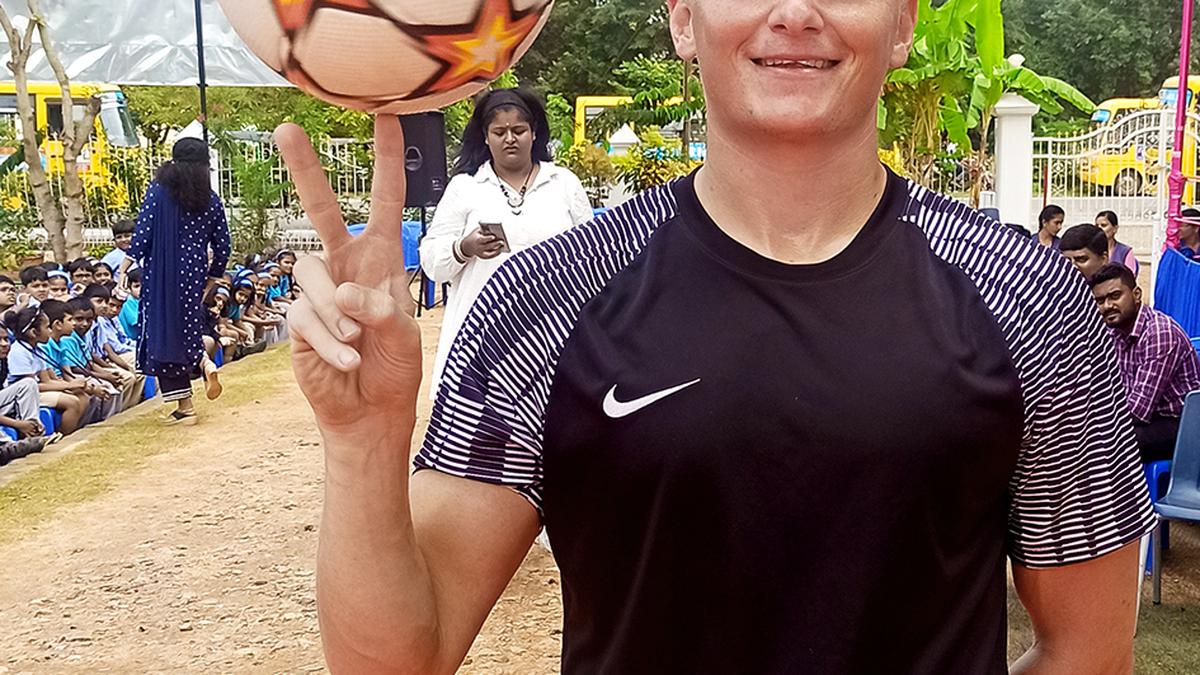 The children are interested in learning freestyle football tricks, said Jamie Knight, a freestyle football athlete and founder of the UK based school workshop company, 'Freestyle football worships'.
Jamie conducted a freestyle football workshop at Podar International school, Vijayanagar, Mysore, on Thursday. Jamie holds two Guinness World records which he made in 2020 (Blind heel 26 times in one minute & Back Flip 15 times in 30 seconds).
Excerpts from his interview with The Hindu.

When did you decide to take up freestyle football tricks?

I never played regular football. In school, my elder brother Steven Knight was a good swimmer and represented Northern Ireland. I am from Belfast and my brother was doing well in swimming, so my parents put me in swimming classes too. I did not like swimming but was fascinated by legendary Brazilian football player Ronaldinho when I was 13 years old. I tried to copy the way he did the tricks and practised hard. By the time I was 16, I quit swimming and decided to work full-time to improve my freestyle football skills. 

What is the goal behind these school workshops?

In 2017, I started workshops in the UK after gaining experience. I built my portfolio and started the "Freestyle football workshop" in London, in order to inspire children so that they can practice freestyle football tricks and have a healthy lifestyle while developing a positive mindset. 

Tell us about your experience with the children of Podar International School

It is so nice to see the interest among the children to learn the freestyle football tricks. The workshops are very well organised by the management and it has made my work easier. The talent is there and I am impressed by their willingness to learn the skills. 

What are your future goals? 

I know around 500 tricks and would like to master more tricks and motivate the freestyle football trick lovers, followers, and children in schools through my workshops. I would like to perform during half-time in the Premier League like I did in the UEFA Champions League Final in 2017-18.