Sport
AUS vs SA | Aussies overcomes middle-order stutter, makes final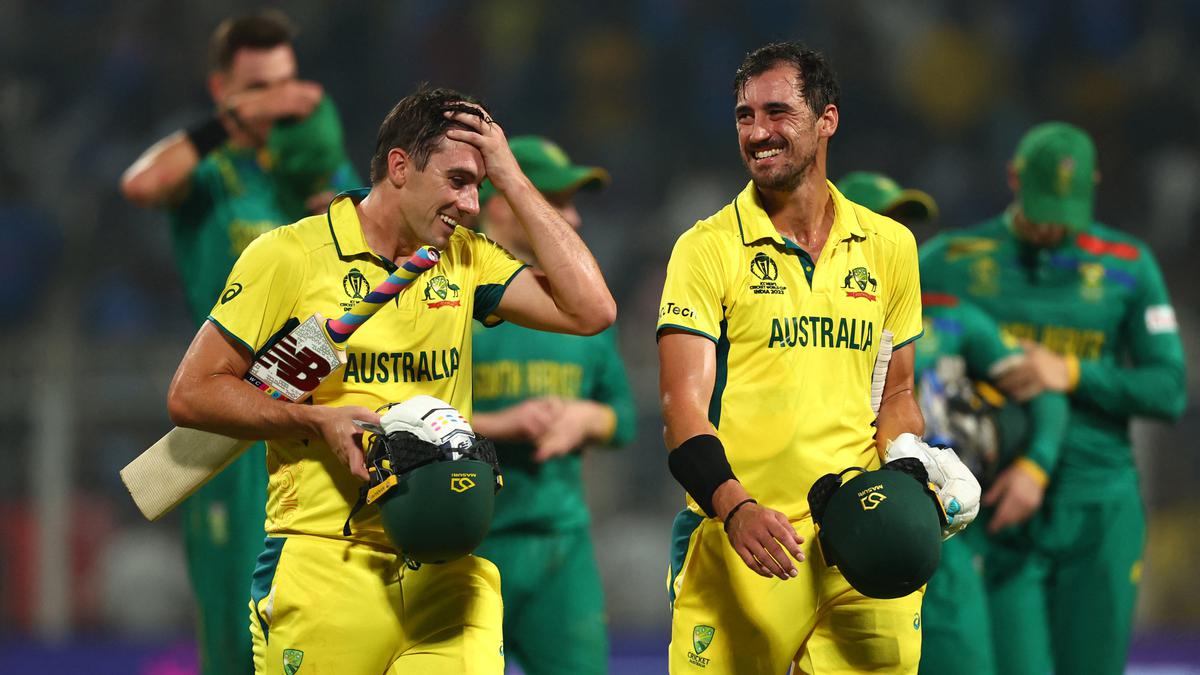 For a few brief moments, South Africa believed that it could finally get it right in a ICC World Cup semifinal match. But it was not to be, as Australia withstood some painful blows to emerge on top by three wickets.
The Australians, never ones to back down from a fight, will take on the Indians in what should be a classic final on Sunday.
A tame batting effort, barring a fighting century from David Miller, put South Africa on the backfoot. Australian openers Travis Head (62, 48b, 9×4, 2×6) and David Warner (29, 18b, 1×4, 4×6) then gave the side a flying start in pursuit of 213 — threatening to relegate this semifinal into a one-sided affair.
Australia vs South Africa | Follow live updates from the second semifinal of ICC World Cup
The South Africans refused to go away quietly. The spinners, Tabraiz Shamsi, in particular, applied the pressure with timely wickets.
Left-arm wrist-spinner Shamsi had Australia in trouble by scalping Marnus Labuschagne and Glenn Maxwell in quick succession.
At 137 for five, there was a mild sense of panic in the Australian camp. Steve Smith (30) only made it worse with a shocking slog which ballooned to wicketkeeper Quinton de Kock. There was one more scare in store, when Gerald Coetzee cleaned up Josh Inglis (28, 49b, 3×4) with a yorker. Australia needed a further 20 runs with only three wickets in hand.
Mitchell Starc (16 n.o., 38b, 2×4) and Pat Cummins (14 n.o., 29b, 2×4) eased the nerves with a sensible approach.
South Africa did itself no favours by dropping no less than four catches.
South Africa stuck to its preferred option of batting first. A horror start, however, negated any perceived advantage. Skipper Temba Bavuma edged one to the 'keeper in the first over, and was followed to the hut by a restless de Kock.
De Kock tried to break the shackles with a mighty heave. Cummins at mid-off kept his composure, back-peddled and took a good catch. Rassie van der Dussen and Aiden Markham cracked under the pressure applied by new ball bowlers Starc and Josh Hazlewood. South Africa was under the pump at 24 for four. When it looked like South Africa would fold cheaply, Miller stood tall. The southpaw grew in confidence alongside Heinrich Klaasen (47, 48b, 4×4, 2×6). The stand was broken when Klaasen played down the wrong line to lose his stumps to off-spinner Travis Head. The part-time tweaker struck gold in the very next delivery, trapping Marco Jansen on the pads.
Miller then took charge. HIs sixth ODI hundred rescued South Africa from being dismissed for a sub-200 total. Miller's dismissal in the 48th over proved crucial for Australia. If he had stuck around for the full essay, South Africa could have added another 20 runs to the tally and it would have made a big difference.
SCOREBOARD
SOUTH AFRICA
Quinton de Kock c Cummins b Hazlewood 3 (14b), Temba Bavuma c Inglis b Starc 0 (4b), Rassie van der Dussen c Smith b Hazlewood 6 (31b), Aiden Markram c Warner b Starc 10 (20b, 2×4), Heinrich Klaasen b Head 47 (48b, 4×4, 2×6), David Miller c Head b Cummins 101 (116b, 8×4, 5×6), Marco Jansen lbw b Head 0 (1b), Gerald Coetzee c Inglis b Cummins 19 (39b, 2×4), Keshav Maharaj c Smith b Starc 4 (8b), Kagiso Rabada c Maxwell b Cummins 10 (12b, 1×6), Tabraiz Shamsi (not out) 1 (5b); Extras (lb-4, w-7): 11; Total (in 49.4 overs): 212.
FALL OF WICKETS
1-1 (Bavuma, 0.6 overs), 2-8 (de Kock, 5.4), 3-22 (Markram, 10.5), 4-24 (van der Dussen, 11.5), 5-119 (Klaasen, 30.4), 6-119 (Jansen, 30.5), 7-172 (Coetzee, 43.3), 8-191 (Maharaj, 46.2), 9-203 (Miller, 47.2).
AUSTRALIA BOWLING
Starc 10-1-34-3, Hazlewood 8-3-12-2, Cummins 9.4-0-51-3, Zampa 7-0-55-0, Maxwell 10-0-35-0, Head 5-0-21-2.
AUSTRALIA
Travis Head b Maharaj 62 (48b, 9×4, 2×6), David Warner b Markram 29 (18b, 1×4, 4×6), Mitchell Marsh c van der Dussen b Rabada 0 (6b), Steve Smith c de Kock b Coetzee 30 (62b, 2×4), Marnus Labuschagne lbw b Shamsi 18 (31b, 2×4), Glenn Maxwell b Shamsi 1 (5b), Josh Inglis b Coetzee 28 (49b, 3×4), Mitchell Starc (not out) 16 (38b, 2×4), Pat Cummins (not out) 14 (29b, 2×4); Extras (lb-3, w-12, nb-2): 17; Total (for seven wkts. in 47.2 overs): 215.
FALL OF WICKETS
1-60 (Warner, 6.1), 2-61 (Marsh, 7.4), 3-106 (Head, 14.1), 4-133 (Labuschagne, 21.5), 5-137 (Maxwell, 23.4), 6-174 (Smith, 33.3), 7-193 (Inglis, 39.5).
SOUTH AFRICA BOWLING
Jansen 4.2-0-35-0, Rabada 6-0-41-1, Markram 8-1-23-1, Coetzee 9-0-47-2, Shamsi 10-0-42-2, Maharaj 10-0-24-1.
Toss: South Africa.
PoM: Head.
Australia won by three wickets with 16 balls to spare and enter its eighth summit clash.
India and Australia will meet in the final at Ahmedabad on November 19 (Sunday).