Sport
Adam Zampa's control of length has made him almost unplayable: Daniel Vettori | Cricket News – Times of India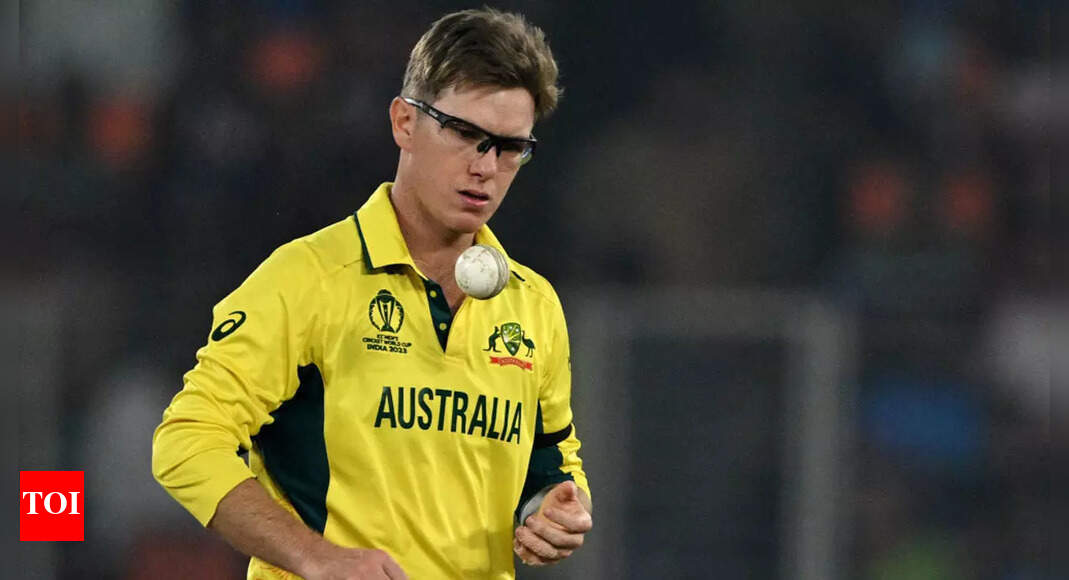 NEW DELHI: Adam Zampa's exceptional control over his length has been a key factor in his success, making him nearly unstoppable in the World Cup, according to Australia's spin bowling coach
Daniel Vettori
.
Zampa currently leads the wicket-taker's list among spinners in the tournament, securing 20 wickets from eight games at an impressive average of 19.20. If Australia advance to the finals, Zampa could potentially become the highest wicket-taker in the ODI showpiece.Despite a slow start against India, the 31-year-old leg-spinner found his rhythm and delivered outstanding performances, taking four-wicket hauls against Sri Lanka, Pakistan, and the Netherlands.
Zampa's ability to maintain precise control over his length, coupled with his other cricketing skills, has made him a formidable force in the World Cup, contributing significantly to Australia's success in the tournament.
"Yeah, it was obviously a very difficult start through injuries and illness to be able to actually play (Zampa). Probably the first three games was a bit of a – well it was an amazing effort because I think he was pretty close to pulling out against Pakistan. Fitness test right up to just before the toss.
"So, to see him get through that, has been the starting point. But I think his control of his length has been the best that I've seen in this period of time, particularly through those three games where he took four wickets in a row and then against England.
"We all know the skills and the variations, but his ability to actually just land the ball on the spot time and time again gave most teams limited opportunities to attack him," said Vettori on the eve of the game against
Bangladesh
in Pune.
Zampa had taken three wickets against arch-rivals England and that effort too was outstanding, said Vettori, himself a champion spinner.
"The England game he didn't go for a boundary; he might not have gone for anything more than a single against two left-handers, against Stokes and Moeen who are very good players of spin.
"That's been the testament in that. It is all about the length of control for him, because all the other skills are there. But when you combine that with that aspect of the game as well, he's almost unplayable."
'Maxwell in full recovery mode'
Suffering from cramps,
Glenn Maxwell
was seen grimacing through his jaw-dropping double century against Afghanistan. The team management may not want to risk him against Bangladesh ahead of the semifinals but Vettori said he is recovering well.
"He's definitely been in full recovery mode the last few days. We all saw the effects of the innings and in particular the heat. So, today's a big day, see how he pulls up.
"But obviously we've had a couple of days off so there's been no training. He's not here today (training) but we'll just see how he sort of feels as the day continues on but it's obviously been pretty hectic for him the last few days," said the former New Zealand spinner.
ICC World Cup 2023: Maxwell's double ton takes Australia to World Cup semifinals against Afghanistan
'Want to finish second for better dressing room at Eden Gardens'
On a lighter note, Vettori said the team is looking to finish the league stage in second place ahead of South Africa as the home team's dressing room at the Eden Gardens is superior to the away one. The second semi-final is scheduled on November 16.
"The home dressing room at Eden Gardens is better than the away one, so we want second place so we can get in that dressing room.
"You have to take every factor into it. Whether rain plays a part, I don't know. But, to finish second, is still important, because it has some very minimal benefits.
"But it will be a focus for the group to say that we can have an opportunity to finish second if we can win this game well. So, I think that's the starting point. I think standards have been set.
"The fact that we've won six games in a row after a tough start. The fact that you want momentum going into the semifinal. All those little things," he added.
(With PTI inputs)